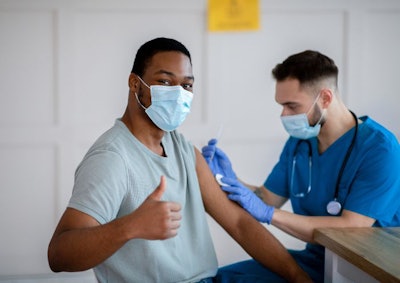 'You're essential, so it's essential' PR campaign, among other efforts, helps get pork industry workers vaccinated against COVID-19
Vaccine hesitancy among the rural population in the U.S. is something you may have heard a lot about, but the National Pork Producers Council (NPPC) said many of its members are getting vaccinated against COVID-19.
NPPC leaders partly credited the large uptake of the vaccine in the industry to its campaign, "You're essential, so it's essential," which supports prioritizing pork industry workers for the vaccine and helps distribute information from the Centers for Disease Control and Prevention (CDC) about the shot in several languages.
Additionally, several of the major meat and poultry producers, including JBS USA, Pilgrim's Pride, Perdue Farms and Foster Farms, have held on-site vaccination clinics for their employees, and some are even offering bonuses or other incentives to encourage vaccination. And, early on in the vaccination campaign, the United Food and Commercial Workers International Union (UFCW) – the largest union representing workers in the food processing and retailing industries – called on the U.S. CDC to prioritize essential workers in grocery, meatpacking and food processing for early COVID-19 vaccine access.
In a media call with reporters on April 15, NPPC representatives discussed their previously announced plans to hold the World Pork Expo in June, with additional safety measures including a more spaced-out trade show and handwashing stations.
When reporters asked organizers whether the people who attend the show are likely to have been vaccinated against COVID-19, the answer was a resounding "yes."
"I have yet to talk to a producer who has told me they have no interest in getting vaccinated, that they won't support it," said NPPC President-elect Terry Wolters. "We care for livestock every day; it's part of our daily routine to vaccinate and prevent disease, so I would say the majority of our people are on board with it."
NPPC CEO Neil Dierks, who said he speaks often with pork producers all over the country, has also heard a lot of willingness in the industry to be vaccinated.
"Our producers are used to dealing with animal health and they understand the importance of vaccines," he said. "I'm sure there are some producers that will not want to be vaccinated, but more often than not, when I talk to producers, I get comments like, 'Well, I just had my second booster,' or 'I'm getting vaccinated this day.'"
This is encouraging news for the industry, and the country. It shows how a coordinated, multi-pronged effort to provide education about and access to COVID-19 vaccines can make a difference.
View our continuing coverage of the novel coronavirus (COVID-19) pandemic.