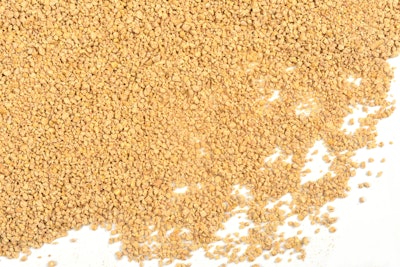 curtoicurto | iStock.com
Most professionals would agree with the statement that net energy is the energy that remains available to the animal for physiological processes after accounting for energy losses during digestion, absorption and metabolism. It's the energy that is utilized by the animal's body for activities such as maintenance (breathing, thermoregulation, etc.), growth (increase in body weight) and production (eggs, milk, wool, etc).
Determining net energy involves the following steps:
1. Gross energy (GE): Gross energy is the total energy content of the feed. It's measured by burning the feed and measuring the heat released. However, not all gross energy is usable by the animal's body due to inefficiencies in digestion and metabolism.
2. Digestible energy (DE): Digestible energy is the energy that is absorbed by the animal's digestive system after subtracting the energy lost in feces during digestion. This has been the main energy system for most farm animals until recently.
3. Metabolizable energy (ME): Metabolizable energy is the energy that is left after accounting for the energy lost in urine and gases produced during digestion. ME is the energy that's available for maintenance, growth, and production. It is affected by protein intake and, thus, a convention is accepted where ME is measured at zero nitrogen retention balance.
4. Net energy (NE): Net energy represents the energy that is utilized by the animal's body for maintenance, growth and production. It's calculated by subtracting the energy lost through metabolic processes from the metabolizable energy. Experts are still debating the most accurate method of determining this difference.
Requirements
Although much discussion exists about determining the NE value of feed ingredients (either directly or indirectly using equations extrapolated from real data), there is a real paucity of interest in determining the NE requirements of modern genetics. The main reason behind this is our belief that old measurements would suffice, but with such reasoning one might equally argue that the ME system is still good enough.