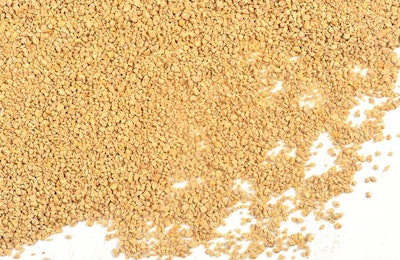 Quality is never guaranteed without proper vetting
When it comes to young animal nutrition, ingredient quality is a key factor that can make or break any quality commercial feed. Quality products often carry a premium, which is paid back through superior animal performance and health and, of course, customer loyalty to the brand.
But consistency of quality is a factor that is not thoroughly appreciated or even acknowledged by the industry. Let's consider two soy protein products: One comes from a single factory and the other from a dozen factories spread throughout the world. They are both non-allergenic, very low in anti-nutritional factors, cost the same per unit of protein, and they are both marketed as high-quality products. In your opinion, which carries the risk, albeit small, of being of unpredictable quality?
A young animal given a feed that contains an ingredient of low quality may flatly refuse to consume that feed, although in most cases feed intake is just depressed. However, the risk to animal health is greater than any loss in growth performance, especially now that antibiotics are no longer part of the in-feed preventive approach. Thus, quality, although required, is never guaranteed unless each batch or each supplier is properly vetted. And, even then, there are unforeseen circumstances that can affect quality of the final product.
As a real-world example, during vacation time the replacement purchasing employee of a feed mill bought the "wrong" dried whey product. It took a considerable amount of time to figure out what happened, especially because all feed analyses came back normal. The batch of whey in question had already been consumed by the time the problem surfaced and it was only by chance that we discovered what had happened.
Keep in mind that quality and consistency are not always assured.