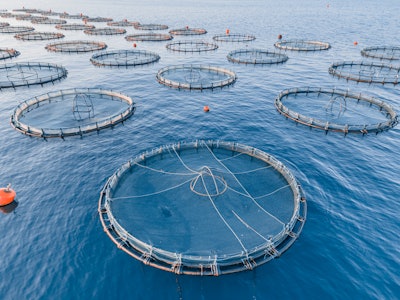 Leonid_S | BigStock.com
Will the aquaculture of the future more closely resemble terrestrial farming, with its focus on a handful of domesticated species? A recent journal article on species diversification in global aquaculture suggests it remains an open question.
In 2020, aquaculture produced more than 100 million metric tons of about 500 species, although about 50 aquatic species accounted for 90% of production, according to the article, a project for World Aquaculture Performance Indicators initiative of the Food and Agriculture Organization of the United Nations (FAO).
While species diversity increased in nearly three quarters of aquaculture producing countries between 1990 and 2020, the diversification trend lost momentum over the past decade, said Junning Cai, an economist and aquaculture officer at FAO and the lead author on the paper. About half of countries with commercial aquaculture production saw the number of farmed species decline between 2010 and 2020.
However, it's not entirely clear why; there's no single trend that clearly explains why some countries continue to diversify while others have concentrated on a few species.
The general thinking, Cai said, is that species diversification tends to be more costly than concentrating on dominant species. To establish a new species often involves investments in genetic improvement, feed, husbandry and dedicated marketing. Even where the public sector is willing to invest in species diversity, economies of scale tend to drive production toward a few winning species, Cai said.
However, trends in some parts of the world, such as eastern and southeastern Asia, suggest aquaculture may not necessarily follow the path of terrestrial farming. Factors such as consumer preference for a more diverse diet could explain why commercial producers continue to introduce new species in some regions of the world, Cai said. Even so, Cai said he believes it would require a concerted effort from all stakeholders to "create an enabling environment for sustainable species diversification."
Promoting species diversification, Cai said, could help make aquaculture more resilient against climate change, disease outbreaks and market fluctuations. Species diversification could also make aquaculture more efficient by enabling the co-production of multiple compatible species in the same facilities.
FAO researchers are still looking at country-specific case studies to better understand what drives species diversity in commercial production so that policymakers and sector managers can make informed decisions on species diversification in aquaculture, Cai said.