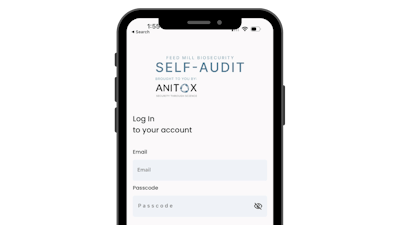 Anitox
Feed pathogen control specialist, Anitox, has launched the first free app to collect and present feed mill biosecurity audit records for all geographies and regulatory bodies.
"Auditing feed mills and amassing the evidence and data needed to produce meaningful biosecurity programs can be a headache," said Dr. Enrique Montiel, Anitox's global director of nutrition and live production. "For years our feed mill technologists have been walking facilities with customers, collecting evidence and preparing reports for regulatory and compliance bodies across the globe. That has become significantly easier, thanks to the new feed mill biosecurity audit app."
The Feed Mill Biosecurity Audit app enables mill managers and quality teams to establish a baseline for biosecurity standards by identifying areas of concern, implementing sound manufacturing practices and adhering to regulatory biosecurity requirements, said the company.
Anitox noted it is uniquely placed to produce the audit app, having a longstanding relationship with one of Europe's leading independent feed microbial quality auditors.
"Our team of feed milling technologists and technical specialists solve Salmonella, virus and other feed pathogen-related challenges on a daily basis," said Montiel. "Now that knowledge has been put the good use for the wider community. Having proven the technology with our loyal customers, we've decided it's too useful to keep to ourselves."
App users can be confident their data is protected and private. Anitox has given up the right to track user-given audit data to make it the most secure and private offering available.
Available for free in iOs and Google Play Stores, the Feed Mill Biosecurity Audit app allows mill managers and their teams to save past audits and access a Feed Mill Technologist with just the touch of a button.