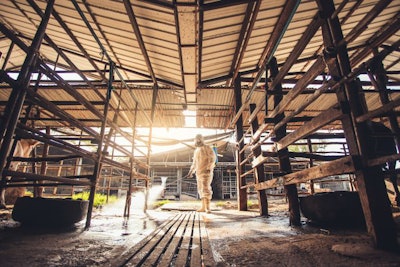 Although inconvenient and expensive, biosecurity is critical to a successful organization
Biosecurity practices are generally inconvenient and expensive, but on-farm and feed biosecurity are becoming critical components of high-health swine systems, according to Jordan Gebhardt of Kansas State University.
Gebhardt spoke August 31 as part of Balchem Animal Nutrition & Health's Real Science Lecture Series.
"It adds extra steps to our day and many biosecurity practices, although not all, generally add cost to our system," he said. "But in my belief as a nutritionist and veterinarian, I believe these two downsides … can be more than outweighed, more than benefited by the improvement in health that we see in the system."
He outlined four keys to a successful biosecurity program.
Culture of the organization
An organization's culture should support routine feedback from management.
"Management also needs to provide the financial resources in order to dedicate and make sure that these biosecurity principles and practices are incorporated and used on a very routine and consistent basis," Gebhardt said.
There also needs to be consistent expectations and accountability in all levels of the organization.
"A culture of biosecurity is extremely important to the success of a biosecurity program," he said.
Training of employees
Employees must be properly trained on what they need to do and how to do it.
"If they don't know how to incorporate these procedures, SOPs (standard operating procedures) really aren't all that useful," Gebhardt said. "We need to routinely reinforce and retrain these procedures, and I believe it's very, very important within this to not only say what to do and how to do it, but to spend a great deal of time and emphasis on why. Why is it important that you take the extra time to do these certain practices and the overall benefit to the health of our animals and the overall long-term success of the business."
Appropriate infrastructure
It is important that facilities can accommodate these biosecurity practices.
"Whatever we can do from an infrastructure standpoint to minimize the inconvenience would equate to a more consistent implementation of those procedures," Gebhardt said.
This can include things like entry benches and perimeter barriers, for example.
"We need to have infrastructure in place to reduce the convenience of making (the) wrong biosecurity practices and increase the convenience of doing things well from a biosecurity perspective," he said.
System which allows and encourages continuous improvement
Routine biosecurity audits of mills and farms should be conducted, as well as audits of farm and feed mill interactions in terms of feed delivery practices.
"Really, we need to change the paradigm and the negative perception about audits," Gebhardt said. "A biosecurity audit is not a negative thing. Getting better as a system and improving our biosecurity practices helps everybody involved."
He said audits should be conducted in a way that makes everyone learn and grow together and changes the negative connotation of the audits.
Additionally, Gebhardt said, "I'm a big believer of sampling and diagnostic testing and using that information … can clearly lead to substantial improvements and changes within the biosecurity system."