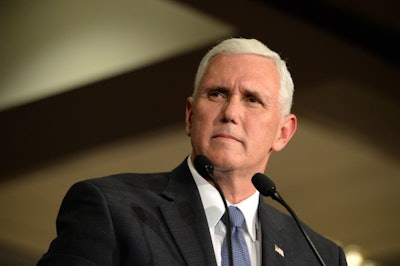 U.S. Vice President Mike Pence visited Flint River Mills (FRM) feed mill in Bainbridge, Georgia, this week as he assessed the damage from Hurricane Michael throughout the region.
The mill, located in southwest Georgia, was damaged by the storm, which was the third-strongest Atlantic hurricane to make landfall in the U.S. Hurricane Michael devastated a path through Florida and Georgia.
"When you hear about a … nearly Category 5 storm coming ashore, when you hear the assessments that we've been hearing, it's a whole different thing to literally see it — to travel across the landscape, to see the buildings, to see the areas that have been impacted," Pence said in a press conference at the mill. "But to think we're standing here at FRM Feed, which has been on this site for 91 years, and has never been closed, except for a few days in nearly a century, is just very moving.
"To see this structure destroyed is to remind you of the sheer force of those 110-, 120-mile-an-hour winds. And I expect when we see the impacts of crops on the ground firsthand, we'll draw the same away."
Pence said roughly $2 billion in crops, mostly pecan and cotton, may have been affected by the hurricane.
Pence was joined by U.S. Rep. Sanford Bishop (D-Georgia), Georgia Gov. Nathan Deal, Georgia Agriculture Commissioner Gary Black and U.S. Department of Agriculture Secretary Sonny Perdue.
Hurricane Michael was responsible for the loss of at least 84 poultry houses and 2 million birds in Georgia, according to the Georgia Department of Agriculture.
In a press release on the state agriculture department's website, those losses were estimated based on reports it had received as of October 11. The agency further stated that the poultry sector had suffered greater hurricane-related losses and power outages than any other agricultural industry.