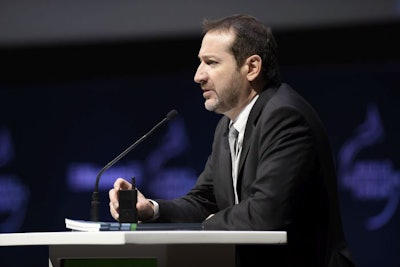 The global animal protein industry is on the cusp of fundamental changes that will lead to challenges and opportunities, said Chris De Lavigne, partner, financial advisory – corporate strategy/M&A, with Deloitte (SAE), at the Biomin 2018 World Nutrition Forum.
Agriculture "will have to do a fundamental rethink," De Lavigne said during his talk, Industry 4.0 – Transforming the Feed & Food Ingredients Sector. "It's the world's oldest industry, it's huge and it's still the most inefficient … but things can only get better."
De Lavigne feels agriculture's inefficiencies lie with its "long and very complex value chain" and labor shortages brought on by urbanization; however, new technologies on the horizon are poised to revolutionize and optimize the livestock sector.
The answers lie with innovations in agricultural technology (ag tech).
Investment in ag tech
Investment in ag tech has grown by 36 percent since 2010 to reach more than $500 billion dollars.
"Agriculture is a mid- to long-term play," he said. "Investors are realizing the opportunity technology has to enable unlock the inherent value to all the challenges and opportunities we haven't been able to unlock so far."
He noted that the investors in the ag tech sector span beyond venture capitalists, noting the investments being made by stakeholder companies.
De Lavigne identified four key areas where Industry 4.0 AgTech will sustainably expand the agricultural sector:
Ag tech operations: robotics/automation, sensors/internet of things (IoT), precision nutrition, drones, big data, management systems
Regulatory technology: Machine learning, cloud computing, supply chain, streamlining compliance, international/free trade facilitation
Finance: Incubators, crowdfunding, private equity, venture capital, government support
Customer demands: Traceability, transparency/block chain, sustainability, clean meat
Data is gold
The technology shift in agricultural production will be driven by the capture and utilization of data.
"I think – and we don't focus on it enough – the gold is in the data," he said. "We know it's there, but so far we haven't been able to mine it and use it to our benefit. The answer is in the data."
In De Lavigne's opinion, the confluence of different technologies (automation, artificial intelligence, IoT, block chain) will be "the holy grail" for efficient animal production.
"Once the technology is in place on the front end, you need the back end to support it," he said. "You need analytics to find gains and a clear plan to execute on it."
Customer 'stickiness'
De Lavigne feels like ag tech will be leveraged to give commodity producers a competitive advantage through value-added transparency.
"If you're able to prove that the provenance and quality is there – and the ethical stats. You will be rewarded for that, customers can be loyal," he said.
Moving forward, De Lavigne feels animal producers and feed industry will need to focus on margins, long-term investments and differentiation to be successful.
Biomin's 2018 World Nutrition Forum was held in Cape Town, South Africa, October 3-5. The event, which focused around the theme, "Scientific Challenges & Opportunities in the Protein Economy" (SCOPE), drew more than 800 delegates from 76 countries.