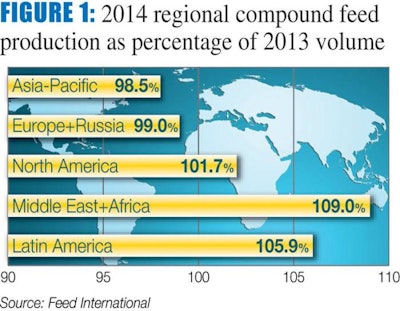 Global animal feed production increased by 1.6 percent in 2014, bringing worldwide industrial production of compound feeds for livestock and aquaculture to a new high of 846.5 million metric tons, according to our latest World Feed Panorama survey. To put this figure into perspective, approximately 254.5 million tons have been added to the global output since 2000 and about 81.3 million tons since 2010, the exclusive database reveals.
The World Feed Panorama revealed that three-quarters of all production came from only 17 countries – with the top five livestock feed-producing countries supplying nearly half of all the compound feeds produced worldwide. The year 2015 is a banner year for the World Feed Panorama, as it marks its 25th year of monitoring the tonnages produced by industrial mills in all countries. The annual report focuses specifically on complete compound feeds, without counting the premixes, concentrates or supplements; it also excludes feeds made on the farm.
The following highlights the most notable global animal feed production developments and trends in 2014.
Animal feed industry overview
Compared to 2013 volumes, North America, Latin America, and the combined regions of the Middle East and Africa saw higher regional production of compounds; however, output fell in the Asia-Pacific and Europe/Russia regions (Figure 1).
Last year, commodity supplies and global economics came together to shape the international feed scene. For many livestock producers, 2014's abundant harvests presented the relief of lower feeding costs and brought sharply reduced grain prices on the international market. But slower economic growth in several regions affected the demand of foods produced by animal agriculture and also impacted the exchange-rate values of national currencies, so that imported raw materials for feeds stayed costly at the local level.
Anyone with an extruder or pelleter making feeds for aquaculture faced the added dilemma of a shortage of a key ingredient, fishmeal. Just when a weakening consumer market undermined the retail price of fish and shellfish, the cost of feeds for the fed-aquaculture segment rose to reflect the fact that fishmeal had suddenly become significantly more expensive. For example, Peru experienced 50 percent reductions in its production and export of fishmeal in 2014. World market prices for fishmeal started rising in May 2014 and showed their steepest increase in September and October 2014.
These were blows against the mainstays of world compound feed production because they hit its monogastric poultry/pig and aquafeed businesses. However, some bright lights shone in other areas, not least in the feeding of dairy cows.
Dairy experience a good year
Milk is still a relatively young market in Asia and shows this by registering big gains for the region's uptake volume year by year. Projections by the Organisation for Economic Co-operation and Development (OECD)/Food and Agriculture Organization (FAO) suggest a growth of 21 percent in Asian dairy consumption by 2020 compared with 17 percent for Africa; 13 percent for Latin America; 12 percent for North America; and only 4 percent for Europe. This is alongside a confident prediction that the overall grocery market across Asia will rise by 8.5 percent across the same period due to extra spending power and changed lifestyles for regional consumers.
But even in Europe, where prices and profits for milk producers were poor in 2014, some dairy feed tonnages managed to increase. Although European feed federation FEFAC estimates total cattle feed production in EU-28 member countries last year as down 1.5 percent from 2013 at 41.5 million metric tons, an exception to the general trend that occurred in the UK.
On official data, the volume of British dairy compounds actually went up by 3 percent in 2014. Some of this may have been attributed to weather impacts on grazing in the early part of the year, but there had already been additional feeding of milking cows in the UK in 2013 after the year had a cold start and then a milk price increase, prompting dairy farmers to feed extra in order to maintain production. A longer-term influence seems to be a change in parlour feeding practices nationally.
Elsewhere in the European Union such as in Germany, the imminent ending of the milk quota system has apparently triggered increased feeding rates by dairy farms.
The World Feed Panorama also has found that the ruminant proportion of the global compounds market increased last year from 20 percent to 21 percent, broadly equivalent to growing by 13 million tons. By comparison, the total tonnage of poultry feeds in 2014 fell by 7 million tons and pig feeds were down by nearly 9 million tons, although aquafeeds grew by 3 million tons (Figure 2).
Animal diseases impact production
Behind these last figures was a story of animal disease. In poultry, episodes of avian influenza were reported to world animal health agency OIE in 2014 by 20 countries: Australia, Cambodia, Canada, China, Germany, India, Italy, Japan, Laos, Libya, Mexico, Nepal, Netherlands, North Korea, Russia, South Korea, Taiwan, United Kingdom, United States and Vietnam. Although cases varied for the pathogenicity of the virus, each one demonstrated the potential to reduce the poultry feed demand locally through the culling of infected birds and also nationally by affecting the country's export prospects for its meat and eggs.
In pigs, the headline illness of the moment was a virulent virus responsible for porcine epidemic diarrhea (PEDv), which ripped through sow herds in places from Asia to North America, killing piglets. The feed effect was mitigated by lower grain prices that allowed producers to consider taking meat pigs to a higher slaughter weight.
Outlook for aquafeed
Aquaculture had the reverse situation of recovering from the devastation caused by shrimp disease EMS in 2013. But, it still faces a bigger battle globally, which is to maintain its growth in production while at the same time demonstrating its sustainability – not least, with regards to the sources of proteins and oils used in aquafeeds.
A 2014 study reported by the European Parliament's fisheries directorate gave an example of the size of the challenge when it looked at the economic and ecological impacts of increased aquaculture production in the EU area of Europe up to 2030. EU aquaculture has hardly grown in annual volume over the past decade, staying at around 1.26 million metric tons per year, but projections for the period 2012 to 2030 indicate a 60 percent increase.
That will bring a requirement for an extra 400,000 tons of aquafeeds annually, according to calculations in the report. To be sustainable, however, the fishmeal inclusion rates applied in 2010 to EU feeds for salmon and crustaceans will need to be cut by half.
In-depth regional coverage
While this report provides only a brief overview global animal feed industry overview, the "related content" links provided on page XX of this report offer a deeper dive into the issues impacting regional compound feed production.
In addition, WATT Global Media's feed-focused Market Data library also features extensive breakdowns of 2014 feed volumes, trends and data: http://www.wattagnet.com/Marketdata/feed/.