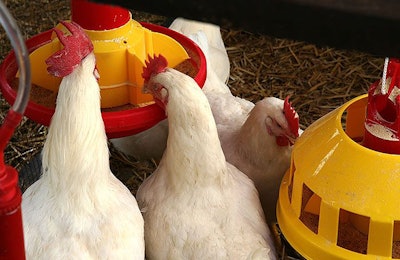 Inghams will build a new feed mill in Murray Bridge, Australia, as part of a AUD279 million (US$199 million) expansion, according to a report.
Stock Journal reports that, in addition to adding fully automated facilities in its milling operations, Inghams will also expand hatchery and breeder farm operations and add nine new or expanded grow-out farms.
"Ingham's has always been at the fore of innovation and we are proud to continue to deliver on that with the introduction of the most advanced feed mill of its kind in Australia," said Inghams CEO Jim Leighton. "The Murray Bridge feed mill is the first to offer fully automated facilities in production and increases Inghams feed production capacity in (south Australia) to 11,000 tonnes per week."
The investment has created 650 construction jobs and will create another 850 throughout the supply chain, according to Premier Steven Marshall.
Minister for Trade, Tourism and Investment David Ridgway said he is optimistic about the project's job creation in the region.
"Ingham's already employs 1,850 staff in South Australia and, on the back of this expansion, there is great optimism that this number will grow in the coming years," Ridgway said. "Chicken meat production and processing is the fastest growing livestock industry in (south Australia), with more than 160,000 tonnes shipped interstate last financial year, and we look forward to seeing that success continue."
According to WATTAgNet's Top Poultry Companies database, Inghams is Australia's largest producer of poultry meat, supplying about 40 percent of the domestic poultry market. Inghams operates more than 340 vertically integrated facilities across Australia and New Zealand. Inghams operates 74 breeding farms, 225 broiler farms and nine distribution centers in addition to numerous feed mills, hatcheries, processing and further processing plants. As Australia's second-largest feed producer, Inghams also makes feed for poultry, horses, dairy cows and pigs.