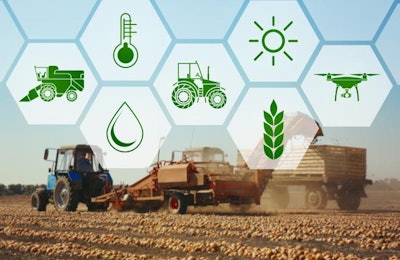 A partnership between AgGateway and the U.S. Department of Agriculture (USDA) that involves the standardization of information may still be in its early stages, but it has the potential to greatly help the agriculture industry.
The two entities in early May announced the partnership, in which they are to work together on data projects to benefit American farmers in the transition to digital agriculture. AgGateway is a consortium of more than 200 agribusiness companies dedicated to the expanded use of information to maximize efficiency and productivity in agriculture.
The partnership's origins
Dennis Daggett, senior vice president of strategic initiatives, ProAg, has been involved with AgGateway's data projects since its early days.
One project of AgGateway, according to Daggett, was called Standardized Precision Ag Data Exchange (SPADE). It originated in 2010. Daggett's background with the crop insurance unit of John Deere got him involved with the SPADE project. He and others wanted data coming from the farm machinery that was standardized enough to be helpful in the administering of crop insurance policies.
"When we went down to talk to the USDA to talk about using precision ag data, their question was, 'How do I know the acre coming off the data from that machine is really an acre?'" Daggett said.
The two entities had a lot of discussions about field acreage, field boundary issues and the USDA common land unit (CLU), which is measured digitally. But a problem was discovered that well over 90 percent of the time, the two did not have matching accounts on acreage.
Seeing the need for standardized information gathering, the two groups began working on a memorandum of understanding.
"The department has its own initiatives on developing new technologies and uses of technologies, and they have their views on precision ag technologies, so it was advantageous that we communicate one with another," he said. "It's a continued work in progress. We've made a lot of progress in the standardization of data movement."
One roadblock is that each farm machinery company, such as John Deere, AGCO and Case-IH, had its own precision ag technologies.
"They all developed those without standards being in place, so every one of those systems is developed differently. It's kind of like each one has its own language," he said. "If a farmer is going to have capability of really using his data, it has to have the ability to communicate."
Potential benefits to animal feed, animal health sectors
Daggett said the partnership project at the time is primarily still focused on crop data, but in time, it could help other agricultural areas, such as the animal feed and animal health industries.
He sees potential for the need for standardized data with the implementation of the Food Safety Modernization Act (FSMA) and growing consumer interest in the types of feed consumed by animals raised for food production.
"There is a strong correlation to what consumers are wanting today in knowing what kind of grain is being fed to the livestock, and how it relates to sustainability, how it relates to FSMA and antibiotics. We believe there is a strong correlation, we just haven't had the time yet to award the expertise," Daggett said.