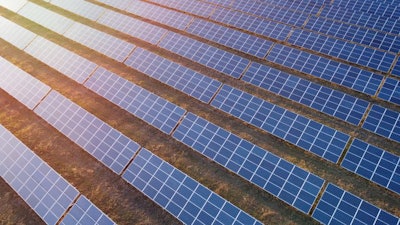 Construction of a feed mill powered by renewable energy has been completed on Mindanao as the latest forecasts for pork and chicken production in the Philippines point to expansion this year.
Within the next two months, a feed mill powered by solar energy is scheduled to begin operations in the Philippines.
Located in Kidapawan City on the southern main island of Mindanao, the mill is expected to run on 50 kilowatts of power generated by the sun, reports Business World.
Constructed at the City authority's demonstration farm and run by the local government, the mill is expected to contribute to cost savings on the processing of corn and rice into diets for livestock and poultry.
Cost of the facility is reported as PHP6.46 million (US$119,000). The European Union (EU) provided the funding. Construction was overseen by a local renewable energy body on the island, and the development authority.
The feed mill is one of 10 projects included in the scheme. Others will deliver clean energy to households in other provinces in the Soccsksargan region in southwestern Mindanao as well as in the adjacent region of Bangsamoro Autonomous Region in Muslim Mindanao.
Rising pork, chicken production forecast for the Philippines
In its latest updates on the Philippines, the U.S. Department of Agriculture Foreign Agricultural Service (FAS) office in Manila is forecasting year-on-year increases in production by local pig and poultry farmers.
Hit hard by ongoing African swine fever outbreaks in 2022, domestic production was estimated to have fallen to 925,000 metric tons (mt) in the past year. This compares with output of 1 million metric tons (mmt) in 2021 — and it equals the volume forecast by FAS Manila for 2023. The increase is expected to come from higher average slaughter weights.
While some provinces have been declared free of the disease, the H5N1 highly pathogenic avian influenza virus has also been circulating in the Philippine's poultry sector for the past year. A 43,000-mt reduction in domestic production was estimated by FAS for 2022 compared with the previous 12 months to 1.3 mmt. As the economy is expected to grow this year, FAS Manila forecasts chicken meat production to expand to 1.36 mmt for 2023.
Other recent feed, farming investments
In the past few weeks, substantial new investments have been announced to expand feed production in the Philippines. Aimed at supporting the nation's aquaculture, poultry and pig producers, San Miguel Food Corp. is seeking a location for a new mill to produce aquaculture feeds, while CP Food (Philippines) is investing in poultry, pig and feed production facilities.
In June last year, the Philippine News Agency reported that the Bangsamoro regional government was overseeing the construction of a small-scale feed mill in the province of Maguindanao. Aim of the project was to produce halal feeds to promote the area's halal-compliant poultry and fish producers.