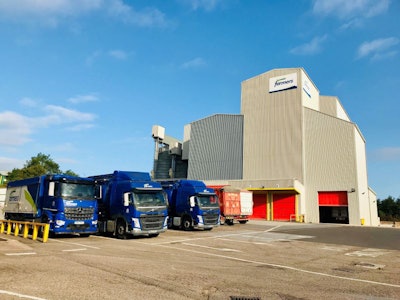 Effects on competition in the national feed market are being considered by the competition body following proposal of a joint venture between the UK subsidiary of ForFarmers and 2Agriculture.
Possible impacts of a proposed merger between two United Kingdom (U.K.)-based animal feed companies are being investigated by the Competition and Markets Authority (CMA).
Parties concerned are ForFarmers N.V. (via ForFarmers U.K. Holdings Ltd.), and Boparan Private Office Ltd. (via Amber REI Holdings Ltd.). The anticipated joint venture is between ForFarmers UK Ltd. and 2Agriculture Ltd.
CMA is inviting interested parties to comment on the proposed merger. Deadline for receipt of these responses is November 9.
A non-ministerial government body, the CMA is considering whether the merger will affect the nation's feed market under the Enterprise Act of 2002. Furthermore, it will consider whether the joint venture will substantially reduce competition within the U.K. for goods or services.
From its offices in all four devolved nations, the CMA's overall function is to promote competition for the benefit of consumers within and outside the U.K. Among the ways it aims to ensure consumers get a good deal when buying goods or services is to investigate mergers between organizations to ensure market competition is maintained.
More on the proposed merger
Four months ago, ForFarmers United Kingdom (ForFarmers U.K.) and 2Agriculture announced they had agreed to merge their businesses into a joint venture to serve a wider customer base.
A subsidiary of the Dutch-based ForFarmers N.V., ForFarmers U.K. sells approximately 2 million metric tons (mmt) of compound feed volumes annually (excluding straights and co-products) across species. Most of the feed output from its 14 mills is for ruminants and pigs, with smaller volumes produced for poultry. The company has approximately 900 employees.
Based in the U.K., 2Agriculture supplies approximately 1.2 mmt of feed annually to poultry farmers — mostly into the integrated market, but also to independent customers. With a workforce of 250, the firm operates five mills across Scotland, East Anglia and North Wales. It also has an extrusion plant in Cambridgeshire.
Latest update on ForFarmers' business
For the latest quarter, ForFarmers Group reports an 8.3% year-on-year increase in gross profit. However, the firm's increased costs could not be fully passed down the supply chain. As a result, earnings before interest, taxes, depreciation and amortization (EBITDA) was reduced by around 17%.
In terms of volume sold, compound feed was 9% lower, while total volume (including specialties, co-products, seeds and forage) was down by just over 7%.
ForFarmers' CFO Roeland Tjebbes attributed these developments mainly to market volatility as a result of the war in Ukraine, as well as the prolonged hot and dry summer. Low river water levels increased incoming freight costs, and the group was unable fully to pass on its higher energy costs.
For pig and egg farmers, animal diseases had particularly adverse consequences during the third quarter of trading. As a result, the company's sales dropped to these sectors.
Among the positive business developments identified by Tjebbes was a reduction in raw material costs compared with the previous quarter. He also highlighted increased sales to the Polish broiler sector, and to ruminant farmers in the Netherlands and the U.K.
In October, ForFarmers N.V. announced that its CEO Chris Deen will leave the company on February 1, 2023. Previously, the company had informed the markets that Deen would be absent for a period of time for health reasons. However, he has recently decided to leave the firm in order to focus on his recovery.