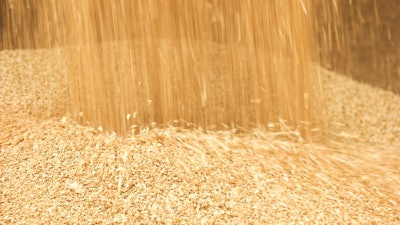 To supply its planned new feed mill, Irish Organic Feeds is seeking future suppliers of organic grains and beans, while the government of Ireland is offering financial incentives to encourage the conversion of land to organic production.
Based in County Cork in the southwest of the Republic of Ireland, Irish Organic Feeds expects to have a new organic feed mill in operation by the end of 2023.
When running at full capacity, the mill will process between 8,000 and 10,000 metric tons (mt) of organic grains, reports Irish Farmers Journal. Already in 2022, the operation needs 2,000 mt more wheat and barley, and 800 mt beans — all grown under organic systems in Ireland.
Approximately 90% of the raw materials used by Irish Organic Feeds are imported. However, company executive Brian O'Regan is calling for organic growers across Ireland to supply grain and beans under contract.
According to the firm's website, Irish Organic Feeds is Ireland's only organic feed supplier and organic grain merchant. Among its feed products are rations for meat and laying chickens, turkeys, pigs, beef and dairy cattle, sheep and goats.
Growth in organic farming in Ireland
Last year, the number of Irish farmers producing organically increased by 300, according to O'Regan.
There are just over 2,100 organic operations in Ireland, reported That's Farming last month. While more than 1,700 of them are farmers, they account for less than 2% of the nation's land area. The majority are located in the southwestern counties of Cork, Limerick and Tipperary.
Ireland's organic farming scheme
To attract more farmers to convert to organic methods, the government offers financial incentives under its Organic Farming Scheme.
Under the scheme, farmers with more than 60 hectares (148.3 acres) under cultivation receive EUR60 (US$67.71) per hectare while converting to organic status. Once organic status is achieved, the rate is EUR30 per hectare. Considerably higher rates apply for those with smaller areas under organic cultivation. Different rates apply for other land uses.
Among the scheme's conditions are compliance with EU organic standards, attendance at an approved training course, and registration with an approved inspection body.
For 2021, more than EUR4 million was paid to 1,000 farmers participating in the scheme. Payments were announced at the end of November by the Minister of State in the Department of Agriculture Food and the Marine.
"Farmers in the organic scheme earn these payments because they are delivering enhanced environmental and animal welfare benefits, while responding to the market demand for organically produced food," said Sen. Pippa Hackett.
For 2022, the scheme is set to reopen this month.
Good prospects for EU organic production, protein crops
Over the coming decade, conversion of conventional land to organic farming is expected to continue in the European Union (EU). By 2031, 15% of all EU agricultural land could be under organic production.
This is among the developments forecast in the latest EU agricultural outlook. Published by the European Commission, this covers the period 2021-31.
While the region's feed production and arable area are expected to decline, production of protein crops (including beans) is forecast to increase.
Pulses — peas, beans, and lupins — can be grown in Europe, and have well-established raw material profiles and amino acid specifications. With appropriate dietary supplementation, they can be successfully used to reduce soybean inclusion in diets for laying hens.