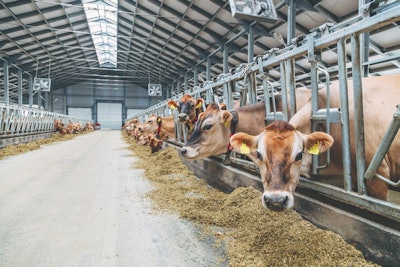 Consolidation in the US dairy industry present opportunities for liquid feed producers in 3 key areas, according to one expert
The U.S. dairy industry is moving toward larger, more specialized farms, and that presents opportunities for feed producers, according to one expert.
Speaking at the American Feed Industry Association's (AFIA) Liquid Feed Symposium in Oak Brook, Illinois, Stephen Emanuele, head of dairy programs for North America at Phileo Lesaffre Animal Care, said there will be fewer farms in the future, but each farm will have more cows.
"The big change: large numbers of cows confined in barns with no access to pasture," he said. "The farms are still family owned but the families own multiples farms, multiple locations. They're no longer mom-and-pop operations. They're regular, large businesses."
This presents opportunities for feed companies, but they must be willing to adapt to be successful.
"There is a huge opportunity for the liquid feed industry, if you are focused on solving problems for the consultant and the dairy operation," he said. "If you want to do business with these large dairy operations, you must solve a problem that is important to them – not a problem that you think is important, but a problem that is important to them. You're no longer selling a product. You are offering solutions to problems specific to the dairy operation."
Emanuele said this dairy industry consolidation is similar to the consolidation that the poultry and swine industries have already experienced.
"What is happening in dairy is what has already happened in poultry and swine," he said. "This consolidation is going to continue. Dairies over 1,000 cows are going to be the major milk supplier in the future. They have a different business model; you're going to have to learn to work with that business model."
He predicted that, in nine years, there will be only 15,000 dairy farms in the U.S.
Opportunities for liquid feed producers
The coming changes in the dairy industry present opportunities for liquid feed producers in three key areas: calves, transition cows and lactating cows.
According to Emanuele, 35% to 45% of calves on dairy farms are treated for morbidity. These treatments include electrolytes and antibiotics.
"You have a huge opportunity to supply liquid supplement with prebiotics, probiotics and direct-fed microbials to reduce the use of antibiotics," he told the audience at the symposium.
The transition period, from three to four weeks pre-calving to four weeks post-calving, is the most important phase in dairy cow's life.
"The transition period is where farms should start using liquid feed," Emanuele said. "It's a great (return on investment) for the dairy producer and the consultant because when you solve issues in the transition period, you automatically increase peak milk, when you increase peak milk, you increase milk over the entire lactation."
Because the transition period is a time when a cow's health may be challenged, it's a good time to use feed additives to give her a boost.
"Dairy producers do not like to have to treat cows during the transition period. They don't like to see their sick pen filled with lots of animals," Emanuele said. "That's why dairy producers are open to using feed additives to reduce fresh cow health issues, and it's during this transition period where liquid feed is a great vehicle for delivering these additives."
He said liquid feeds can be used to increase dry matter intake and deliver anionic salts, yeast prebioics, yeast cell wall and ionophores during the transition period.
A cow's lactation period is when feed additives can be used to lower a dairy operation's carbon footprint.
"In the future, starting now, in 2021, and continuing through 2030 and beyond, we have a new goal. And that goal is to reduce the carbon footprint of the dairy operation," Emanuele said. "In the future, if you're going to have to solve this issue for dairy farmers, what are you going to have to do? Provide liquid supplements that reduce nitrogen emissions. … The other thing you have to reduce is methane emissions, and you can do that as well."