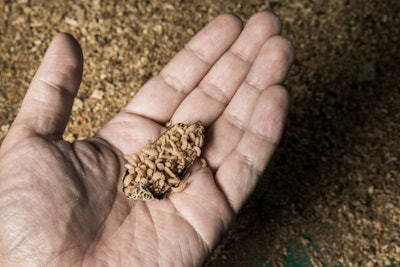 Companies producing insect-based ingredients for animal feed must be nimble to find success in a relatively new industry
Insect production for use in animal feed is still a relatively new industry, which means companies in that space need to adapt and innovate to create efficiencies and scale up production, as well as gain acceptance and regulatory approval.
The global insect feed market is projected to grow at a CAGR of 12% between 2021 and 2026, according to ResearchandMarkets.com.
Insect innovations, investments
U.S.-based EnviroFlight, which was acquired by Darling Ingredients in January 2020, opened the first black soldier fly larvae (BSFL) production facility in the U.S. in December 2018.
"The insect-based ingredient industry is still in its infancy, so EnviroFlight is pioneering everything from BSFL breeding and rearing, to hatching and growth of larvae, to processing larvae into the final ingredients," said Liz Koutsos, president of EnviroFlight. "Each of these areas has had its challenges as we designed protocols, technologies and equipment to perform tasks that are completely unique to the insect industry."
She said a lot of the innovation at EnviroFlight's plant is centered around customizing equipment for its specific needs.
"We've had to design and implement multiple new technologies ourselves, because this is a brand-new industry. At this time, there are few 'off the shelf' equipment options for commercial-scale insect rearing, so EnviroFlight engineers work really hard to design and optimize our equipment around our facilities and processing goals."
Nick Piggott, co-CEO and co-founder of Nutrition Technologies, a BSF-based company that does business in Malaysia, Singapore and Vietnam, said almost every part of his company's process is newly developed or adapted technology.
"As a company that leans more heavily on biology-based solutions than engineering ones, we have developed a system that optimizes the symbiotic relationships between larvae and their microbiome," he said. "By manipulating the microbiome of the feed substrate, we have boosted the performance of the larvae without any additional spend. Applying existing technologies, such as near-infrared (NIR) and dedicated formulation software for our larval feed preparation has massively improved the feed cost/larvae metric, which is central to our business model, and improved the product profile of the insect meal, allowing us to target amino acid profiles to suit specific target animals."
U.K.-based Entec Nutrition produces yellow mealworms for aquafeed and pet food. Co-founder and CEO Olivia Champion said the company is looking for ways to boost efficiency.
"As we scale our production, we are exploring options for new technologies that will reduce the manual labor associated with mealworm feeding and harvesting," she said. "These technologies will improve the efficiency of mealworm rearing and enable our products to be price competitive in the longer term."
Young Wook Kim, CEO of KEIL Corp. in the Republic of Korea, said his company operates a fully automated smart factory for mass breeding of mealworms for livestock, fish and pets, as well as for human consumption and fertilizers. He said his company has patented technology that extracts protein from mealworms to exclude unnecessary ingredients.
"This technology helps to digest and absorb protein quickly," he said. "This technology goes through hygienic and eco-friendly manufacturing process using a hydrolysis method of extraction through using enzymes and water."
Alternative proteins necessary for the future
Many in the industry see insects as an important and sustainable alternative to common protein sources for feed, such as soy and corn.
"Without a replacement for these feed crops, not only will more and more land will be required to grow the crops, but the way these crops are grown will become less and less sustainable, with intensification of chemical fertilizers, dangerous pesticides, and the accompanying risks that come with high-intensity mono-cropping systems," Piggot said.
Jens Feldhaus of Germany-based WEDA-Dammann und Westerkamp GmbH, said this is "a crucial point."
"Soy cultivation clears and destroys forests. The production of insect-based feed requires a small amount of land. There is no need to cultivate hectares of arable land," he said.
Champion and Koutsos pointed to the growing human population, which is expected to exceed 9 billion people by 2050, as well as climate change and soil erosion, as reasons to look beyond corn and soy for feed protein.
"The deforestation associated with soy and the greenhouse gas emissions from long-distance transportation are further contributing to climate change — we desperately need to utilize sustainable alternative protein sources," Champion said. "As well as having an excellent nutritional profile for animal feed, insects may be reared locally, are efficient at converting feed, require less land and water to rear (relative to conventional livestock) and can be reared on industry byproducts, therefore minimizing waste."
And, Koutsos said, not only will that growing population need more food sources, but animals will too.
"It will take all avenues of agriculture working together to keep the world fed and we will need more protein and energy to do so. Not only do humans need to be fed, but we will also need to feed the increased number of livestock and poultry species that are consumed by humans and animals," she said. "The world needs innovative and sustainable ingredients to meet those demands, and insect-derived ingredients are an excellent option. In addition to providing a great nutrition option, we can work with the existing animal and plant-based protein supply chain to help reuse and upcycle their byproduct streams and thus improve our circular economy."
Kim also highlighted the many ways that insect ingredients, such as mealworms, can be used in a variety of products.
"Since mealworm has zero waste with high-in-protein-and-fatty-acid materials that can be mass-bred artificially, it can be used as a protein source for cosmetic materials, protein for human consumption, oil, livestock products, compound feed for fishes, and pet snacks for dogs and cats," he said. "Even the frass of mealworms can be used as natural organic fertilizers. We believe mealworms are most suitable as an alternative protein."
Piggot said regulators and government agencies across Southeast Asia "are aware of the constraints placed upon their livestock and aquaculture sectors by the reliance on existing ingredient sources" and they understand that alternatives are needed for the livestock sectors in Malaysia, Indonesia and Vietnam to flourish.
WEBINAR: Challenges and opportunities for insect meal in animal feed: https://bit.ly/3gjzeB4
Regulatory approvals vary across regions
Only certain insect species are approved to be fed to certain animals, with regulations varying by country. Several insect production companies are involved in research and feeding trials to prove the efficacy of their products with the aim of gaining regulatory approval.
"Regulatory approval for insect-derived ingredients has been a gradual process which has picked up momentum with time," Koutsos said. "Through our ongoing research program, we have compiled findings to substantiate the safety and efficacy of black soldier fly larvae to many animal species."
In the U.S., the Association of American Feed Control Officials (AAFCO) has approved or is in the process of approving whole dried larvae and ground defatted meal from black soldier flies for fin fish, poultry, swine, adult dogs, and wild birds.
"The use of BSFL oil will likely be soon to follow — as well as a variety of other species for larvae, meal and oil," she said, adding that Enviroflight's research team has published papers on its findings and more work is forthcoming.
In South Korea, Kim said, only insects registered in the Food and Drug Administration of the Ministry of Food and Drug Safety can be used as food, and materials used for food can also be used for animal feed if it is sterilized through heating the material in 100 degrees or more for at least 30 minutes to avoid contamination by bacteria or microorganisms. There, BSF is only approved for fish feed.
"Most countries around the world, including all of Europe, the U.K., Korea, China, Southeast Asia, Australia and South America, are using edible insects as a feed protein source instead of raw feed and fish meal," Kim said. "And also in Korea, Canada, the United States and Southeast Asia, edible insects that are registered as food can be used as feed for pig and chicken. In Korea, insects are already used as a protein source for compound feed for pigs, and Europe and Australia are also considering using into pig feed."
He added that the South Korean government has banned the use of raw feed and has made the use of compound feed mandatory in the aquaculture market, with the demand of replacing 10% of fishmeal in compound feed with edible insects.
Elsewhere in Asia, Piggot said Malaysia in particular has taken "a very pragmatic approach" to the regulation of insects as and animal feed ingredient.
"Rather than regulating by material type, the authorities base their approvals on suitability, effectiveness and safety," he said. "In Malaysia, for example, the Department of Veterinary Services completes a paperwork audit of production process and raw materials, followed by a site visit to ensure that the manufacturers are following the stated process. If the process flow is deemed to be safe, and the manufacturer can provide evidence that the product is fit for purpose, e.g. through feed trials, the product is added to the approved register. The manufacturer is audited annually to ensure ongoing compliance."
In Germany, Feldhaus said, insects are approved for use in pet food and aquaculture.
"Once insects are allowed to be fed to pigs and poultry, there will be an increase in demand for insect-based feed," he predicted, adding that gaining the approval of insect-based feeds for pigs and poultry in the EU is seen as the biggest challenge for his company.
While this fairly new industry has made big gains in recent years, there is still plenty of room for growth and development, which is likely to lead to wider regulatory approval.
PODCAST: Is BSFL a viable cattle feed ingredient?: https://bit.ly/2TjJksC