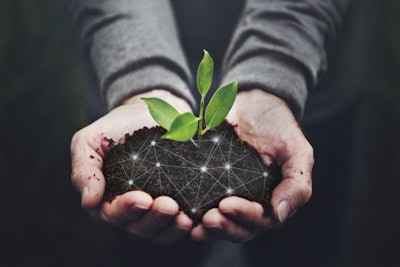 US Soybean Export Council CEO Jim Sutter says it's in the best interest of US ag producers to have good environmental and social practices
The sustainability of U.S. agricultural products is good for business and for the environment, said speakers at the U.S. Department of Agriculture's (USDA) recent Agricultural Outlook Forum.
America's trading partners want to buy products that have a good environmental and social footprint, and U.S. consumers are becoming more interested in the sustainability of the food products they purchase.
"We are supplying key ingredients to the food industry around the world, said Jim Sutter, CEO of the U.S. Soybean Export Council. "And people … are caring much more about how their food is being produced. They want to know the footprint both environmentally and socially. And our U.S. farmers and industry are very focused on continually improving our environmental and social practices and using measurements and data and our own farmers' pride of ownership to drive continuous improvement."
Jason Hafemeister, Acting Deputy Under Secretary for USDA's Trade and Foreign Agricultural Affairs office, agreed, saying U.S. farmers are always looking to improve their practices.
"Our farmers are among the most productive in the world," he said. "But we're also working to make it better. There's always ways that we can do things better."
For example, Sutter said, the wider adoption of no-till farming has been a big improvement in sustainability in the past 25 years.
"The progress that's been made in no-till farming and the ability to grow crops without disturbing the important residue on top of the soil surface in a way that protects the environment, limits erosion, enhances moisture retention is really amazing," he said. "Over the last 25 years, that has really enabled sustainability."
And, he said, there is more to sustainability than just gaining a wider market share.
"In addition to the business drivers behind doing things sustainably, I think there's also a big personal human driver that is important to me, and I'm sure to probably all of us as we think about future generations, in my family, in your family and the families all around the world. I think we all want them to have a safe, clean place to live and prosper. And if we don't do things sustainably today, we're not going to be able to deliver on that," he said.
Sutter added that educating consumers is important to the sustainability journey.
"The cost of a healthy diet is significantly higher than an energy-sufficient diet, showing significant gaps in our food system to deliver nutritious foods to people. And I would also bring into that category sustainable foods," he said. "We have a great opportunity to educate people on both the sustainability and the nutrition side of the equation. And finally, a sustainable and efficient value chain and diversification of the food system are critical for healthy diets, companies, farmer organizations, NGOs and governments. We must all act together to deliver."
To drive home the business case for sustainability for producers, Sutter stressed the importance of sustainability to Generation Z and that generation's influence on their parents, who have more purchasing power.
"Gen Z consumers, so those people born between 1996 and 2015, they have a big impact on older generations to influence purchasing decisions. And I think it's important to look at it that way because these younger people, you may say, 'Well, they don't have a lot of purchasing power,' but they have a lot of impact on people who do have a lot of purchasing power," he said. "Three-quarters of Gen Z consumers said that sustainability was more important to them than brand names. And as a result, these Gen Z's influence over their Gen X parents – born between 1965 and 1976 – these Gen X consumers' preference to shop for sustainable brands increased by 24%. And their willingness to pay more for sustainable brands grew by 42%. So, I think there truly is a real business case in the area of sustainability."