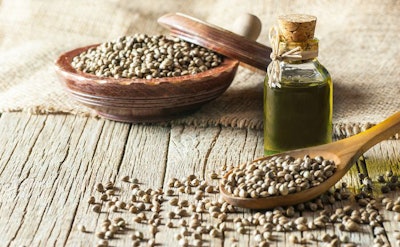 Stated concerns about hemp based on misconceptions, issues unrelated to animal feed, industry says
A joint open letter of concern calling for more research on whether hemp is safe to include in animal feed has prompted frustration within the hemp industry, the Hemp Feed Coalition says.
The letter, which was released February 9 by the Association of American Feed Control Officials (AAFCO) and addressed to agricultural leaders and policymakers, calls for organizations to wait for additional research before including or approving hemp in animal feed. Many state lawmakers, the letter says, have sought to "circumvent" federal oversight with legislation allowing the use of hemp in animal feed ahead of review by the U.S. Food and Drug Administration (FDA), which is ongoing.
It is not yet clear, the letter says, how hemp-based feed will compare with conventional diets. And the implications of the presence of trace quantities of cannabinoids, including THC, the primary intoxicating compound associated with cannabis, are not well understood, as research into whether these compounds enter meat and animal products is not yet complete, the letter says.
The letter also cautions that even if a state legalizes the use of hemp in animal feed, animal products produced using hemp-based feed that cross state lines "could be considered adulterated under the law."
"We understand the importance of supporting the hemp industry, and yet we also believe it is simply too soon to know whether hemp is safe for farm and ranch animals, as well as for our pets," the letter reads. "Our goal is for more research to ensure the safety and well-being of the public, our animals and our agricultural industry."
But from the industry's perspective, proponents of hemp have spent at least three years trying to obtain the data requested by AAFCO, only to be told they need ever more granular data.
"No other feed ingredient is being evaluated under the same standard as hemp is. Canola oil and other ingredients are not held to the same standard," Morgan Tweet, executive director of the Hemp Feed Coalition, said. "It doesn't feel like they are evaluating us on an even playing field."
As currently proposed to the FDA, Tweet explained, the hemp seed meal that would be allowed in chicken feed could not contain detectable levels of compounds such as CBD or THC. If it did contain these compounds, Tweet said, it would be considered adulterated. The meal would be derived from parts of the hemp plant that are already approved for human consumption, Tweet said.
Research has also shown that hemp seed meal has an attractive fatty acid profile that could be of benefit to poultry, and possibly to the aquaculture sector as well, Tweet said.
Meanwhile, hemp-based products are legal in Canada and available in the U.S. in spite of FDA's incomplete decision about the ingredients, prompting states to take action to avoid losing economic gains to other regions.
"The cat is already out of the bag," Tweet said. While there is certainly more research to be done, AAFCO should also "take a reasonable approach to the evaluation of these ingredients," she said.