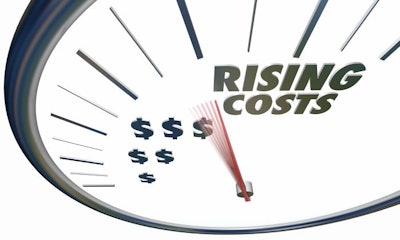 Rapid increases in fertilizer, pesticide prices could fuel corn market tensions in 2022
Global demand for corn and soybeans appears likely to decline in early 2022, but slower trade is on a collision course with dramatic increases in prices for key goods such as fertilizer, pesticides and even seed, according to economists at Purdue University.
December market conditions remained largely unchanged since November, according to the U.S. Department of Agriculture's (USDA) final world markets and trade report of the year. Corn supplies increased slightly on account of growing global corn production, particularly in the EU and Ukraine, but the USDA left price projections for the 2021-22 crop at US$5.45 per bushel. Soybean use and production saw similarly minor adjustments, leaving the price of soybeans at US$12.10 per bushel, though the cost of soybean meal itself increased US$5 per ton.
Demand for soybean meal specifically appears to be increasing on account of a global shortage of lysine, which appears likely to continue into 2022, according to Jim Mintert, director of the Center for Commercial Agriculture at Purdue University. Soybean oil, likewise, remains in demand on growing biodiesel production. However, Mintert noted that global soybean trade appears to be stagnating, with exports from the U.S. this year so far down 27% over this time last year.
"It would not be a surprise if USDA reduces world exports in the next report," Mintert said during a Purdue presentation at The Indiana Farm Equipment & Technology Expo. "If we look at what's taken place so far, they're not too far off, but the big window is from harvest time in the fall to the end of January, early February. If we're going to see catchup, it needs to happen quickly."
Corn exports, similarly, are down 250 million bushels compared to last year, Mintert said, but with ethanol margins near record highs, he said he thought the USDA's projections for corn demand "might be too pessimistic." Unless ethanol production slows, which Mintert said seemed unlikely, any hiccup in South American corn production this winter could cause corn supplies to tighten again.
Given current market pressures, Michael Langemeier, associate director of the Center for Commercial Agriculture, said 2022 prices were likely to remain around US$5.20 per bushel for corn, and in the range of US$12 per bushel for soybeans.
In spite of these relatively high prices, Langemeier said, farmers face tight margins on both commodities due to rising production costs. Fertilizer costs alone are up 80% since March, he said, and prices for pesticides and seed have also rapidly increased. To break even growing corn next year could require a price as high as US$5.40 per bushel, Langemeier said, leading him to predict that U.S. producers will likely cut back on corn production in some regions next year.