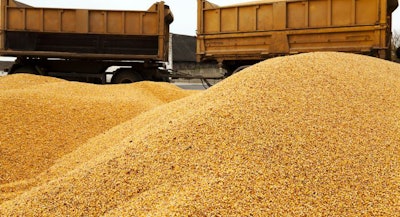 US corn from the already in-demand 2020-21 season crop gets high marks for quality
Despite COVID and the Iowa derecho, relatively mild weather last summer meant buyers who managed to get their hands on corn amid this year's frenetic markets got some of the best quality corn sold in the past decade.
According to the 2020-21 Corn Export Cargo Quality Report by the U.S. Grains Council, outgoing exports this year show notable quality improvements over 2019-20, with higher test weights and lower total damage compared with last year. Several metrics also exceeded the Grains Council's five-year running average.
This year marks the 10th consecutive corn export quality report by the U.S. Grains Council, and it could be some of the best quality corn the report has logged, according to Kyle Gilliam, manager of global strategies and trade for the U.S. Grains Council.
"This is easily one of the better years that we've had," Gilliam said.
Nearly all — 92.7% — of samples collected for the report this year met the standards for U.S. No. 1 grade corn, compared with 73.1% of samples in 2019-20, according to the report. Nearly 97% of this year's samples met the criteria for U.S. No. 2 grade.
This year's cargo samples also showed improved levels of mycotoxins. All but one sample tested came in below U.S. Food and Drug Administration (FDA) limits on aflatoxin and deoxynivalenol (DON). Fewer that 2% of samples contained more than 5 parts per billion aflatoxin, compared with nearly 4% last year. However, DON was 4.8% more prevalent this year than last year, although no samples exceeded the FDA action level.
Gilliam attributed the overall increase in corn quality this year to improved weather conditions. While COVID-19 resulted in shipping delays, he said, good storage practices prevented this from degrading cargo quality.
"We had the derecho that came through Iowa and that area, which did damage some corn fields, but overall we still had a really good year despite one bad weather event," Gilliam said.
He said it was fortunate, given the rapid increase in corn prices last year, that the weather cooperated. International buyers expect higher quality than usual when prices rise, he said.
"If they ordered No. 2 corn and it came in looking terrible, we would be hearing about that," Gilliam said, "because they did pay more this year than previous years for the corn."