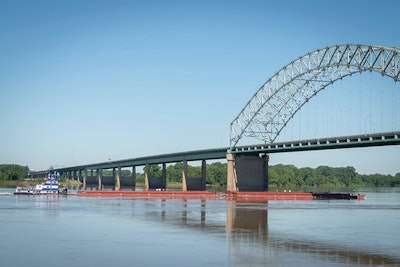 Transit on the Lower Mississippi River under the I-40 bridge is safe for all maritime traffic
The U.S. Coast Guard has lifted the waterway restriction under the I-40 bridge near Memphis on the Lower Mississippi River. Barges hauling grain, animal feed and other goods were previously halted between mile marker 736 to mile marker 737 after bridge inspection crews discovered a "critical" defect of the bridge on May 11.
The waterway is now open without restriction to all vessel traffic, according to a press release from the U.S. Coast Guard. As of Friday, there were 62 vessels and 1,058 barges in queue. Vehicle traffic over the bridge remains halted.
"Based on information provided to us by the Tennessee Department of Transportation, the Coast Guard has determined that transit under the I-40 bridge is safe for maritime traffic," said Coast Guard Capt. Ryan Rhodes, Captain of the Port of Memphis. "We appreciate the cooperative efforts of both the Tennessee and Arkansas Departments of Transportation, as well as maritime port partners, to ensure the safety of our waterway."
Most barges loaded with agricultural commodities along the Upper Mississippi, Ohio, Illinois or Missouri rivers must pass underneath the I-40 bridge enroute to Gulf of Mexico export facilities near New Orleans. In the week ending May 1, more than 430 barges moved south along the river, headed for the Gulf of Mexico, according to U.S. Department of Agriculture grain transportation reports.
Construction of the I-40 Hernando de Soto Bridge began in 1967 and was opened to automobile traffic in 1973. According to reports, the bridge was last inspected less than two years ago. Repairs may take months, according to the Tennessee Department of Transportation.
The discovery of the defect comes as President Joe Biden is making the case for his US$2 trillion infrastructure plan, also known as the American Jobs Plan, which would direct funding to bridge repairs, among other infrastructure improvements across the U.S.