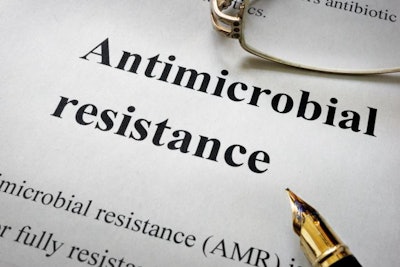 Public awareness, good biosecurity and long-term funding are key to reducing antimicrobial resistance in animal production, according to an OECD study
The lack of long-term funding and the need for greater coherence in implementing workable solutions continue to hinder implementation of national action plans to combat the risks posed by antimicrobial resistance (AMR), summarized the Organisation for Economic Co-operation and Development (OECD) in a study released March 30.
AMR poses a major threat to human, animal, plant and environmental health. Due to the global nature of AMR, the emergence of resistance can have potentially huge economic and social costs in all countries. The objective of the study was to identify the policies and best practices that have been successful in optimizing the use of antibiotics in animal production.
Global efforts to combat the risks posed by AMR depend on the effective implementation of national action plans (NAP). It is critical that countries have the political willpower and determination to ensure the effective implementation of the measures in their NAP to combat AMR, advised the study. Often, public funding is allocated to dealing with AMR in human health, but limited funding is available to implement measures to tackle AMR in animal health. However, new initiatives involving collaboration and partnerships between the public and private sectors are emerging, according to the study.
Key recommendations from the study include:
Successful AMR mitigation strategies include preventative measures that limit and prevent infectious disease outbreaks in food animals. Greater attention also needs to be given to the development of alternative interventions to antibiotics in the prevention and treatment of animal diseases.
Regulations that encourage the responsible use of antibiotics in food animal production require robust enforcement. Further efforts are needed to improve regulations and enforcement on the appropriate use of antimicrobials in human and animal health.
A standardized approach to data collection by the national surveillance systems would allow countries to establish "benchmarking" for antibiotic usage in the different animal sectors. The adoption of international standards for the collection and reporting on antibiotic use and antibiotic resistance in animals would help support comparative analysis within commodities to mitigate AMR across countries.
Additional efforts are needed to ensure transparency and coherence in the implementation of national policies to combat AMR. Sharing of experiences across different administrative structures and institutions in different sectors and countries would help improve the co-operation among public policy institutions and the private stakeholders.
In order to enhance public confidence and motivation, governments should commit to the long-term funding required to implement national action plans. Finding adequate funding is a major challenge for most countries.
According to the study, there is no single measure or solution to tackling the challenges posed by AMR in animal agriculture, but a mix of effective policy measures, regulations, good husbandry practices and biosecurity measures can successfully and sustainably reduce the need for antibiotics in livestock production and lower the risk of AMR.
Additional efforts to enhance public awareness, improve education and training, and to explore alternative interventions and innovations to antimicrobials in animal health and animal welfare could also improve outcomes, the OECD study concluded.