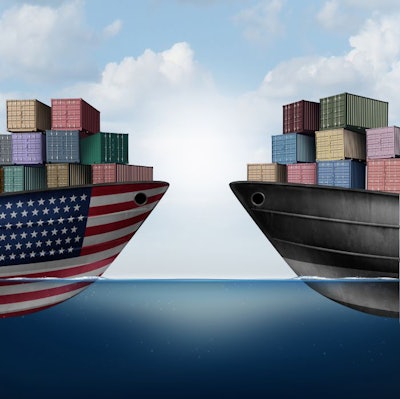 Ag groups want government to intervene as international ocean container carriers refuse to carry US exports
Exporters of U.S. agriculture products say international ocean container carriers are frequently refusing to carry U.S. ag exports, harming the U.S. economy and the reliability of their shipments.
In a letter sent last week to President Joe Biden and copied to U.S. Agriculture Secretary Tom Vilsack, U.S. Transportation Secretary Pete Buttigieg, Council of Economic Advisors Chair Cecilia Rouse and Federal Maritime Commission Chair Michael Khouri, a group of more than 70 U.S. agriculture groups said they wanted any tools "available to our government be immediately applied to stem the current ocean carrier practices that are so damaging our agriculture exports."
The letter said the ocean container carriers, which are headquartered overseas, "are enjoying their most profitable period in decades by controlling capacity and charging unprecedented freight rates, imposing draconian fees on our exporters and importers, and frequently refusing to carry U.S. agricultural exports."
The situation increases costs for U.S. exporters and hampers their ability to reliably contribute to the global supply chain.
"The situation is so egregious that the Federal Maritime Commission (FMC) last year issued a rule setting forth guidelines as to what would be reasonable carrier practices – however, none have been implemented by the carriers, deepening the crisis. While the FMC is undertaking further efforts to gain compliance, the damage being done to our agriculture and forest products industries is severe, increasing, and with lost foreign markets, may be irreversible," the letter said.
Among the U.S. ag groups that signed the letter are the American Farm Bureau Federation, American Feed Industry Association, Dairy Farmers of America, Meat Import Council of America, National Association of Egg Farmers, National Chicken Council, National Pork Producers Council, National Turkey Federation, North American Meat Institute, North American Renderers Association, U.S. Dairy Export Council, U.S. Meat Export Federation and USA Poultry & Egg Export Council.
The effects of the COVID-19 pandemic, port labor, and the actions of the ocean carriers and marine terminal operators are all said to be factors affecting the situation, according to Tom Super, senior vice president of communications at the National Chicken Council. He said the problem is worse at West Coast ports, which are major shipping channels for U.S. chicken exports to Asian markets.
"The problem is that ocean carriers aren't greatly interested in putting U.S. agricultural goods in refrigerated containers on their ships right (now) because they can make so much money on dry boxes sent from Asia to the U.S. filled with consumer goods. Without a sufficient number of these refrigerated containers to carry poultry, the fear is that U.S. exports could stall," he told Feed Strategy in an email. "In a nutshell, instead of letting a container be loaded with food and agricultural products, ocean carriers are declining that export cargo, in favor of returning empty containers to Asia in order to quickly load U.S.-bound imports, generating unprecedented high freight revenue."
National Pork Producers Council Director of International Affairs Maria Zieba echoed Super's concerns.
"If the situation is not quickly rectified, we risk not being able to fulfill contracts to send product to Asia — one of our largest markets — in a timely manner," she said.
Zieba added that meetings with the Biden administration and members of Congress on the situation have been "very productive" and that "we look forward to a prompt resolution."
Few choices for US exporters
According to the Agricultural Transportation Coalition, there are only nine companies that operate trans-Pacific container services, and none of them are based in the U.S.
"U.S. exporters do not have many choices. They are completely dependent on these foreign carriers to deliver our ag and forest products to overseas customers," the group said. It added that, typically, 65% of containers on a ship leaving U.S. ports for Asia are loaded with cargo, but today that number is closer to 50% "because carriers continue to turn down the export cargo that could be filling those containers."
"Ocean carriers are charging truckers, importers and exporters daily fees, known as 'detention' or 'per diem,' when they do not return the carrier's container to the terminal within the time allotted under the contract of carriage. The carriers and marine terminals also charge 'demurrage' when the trucker or shipper does not remove a container from a terminal quick enough, or returns the container to the terminals before the terminal wants it," the Coalition said. "These charges are now, in aggregate, in the hundreds of millions of dollars. Most disconcerting, the carriers and terminals are charging these fees (US$125 to US$425/container/day) even when it is not possible for the truckers or shipper to actually access the terminal to return or retrieve the container. These fees are jeopardizing the financial viability of exporters and importers. Exporters are stymied from moving containers to the ships by the carriers' and terminals' own actions."
Shipments rejected
A CNBC investigation found that, during October and November 2020, shipping carriers rejected hundreds of millions of dollars' worth of U.S. agricultural export containers, "instead sending empty containers to China to be filled with more profitable Chinese exports," the report said.
Data cited by CNBC showed that carriers rejected an estimated 177,938 containers known as TEUs (20-foot equivalent units) in October and November.