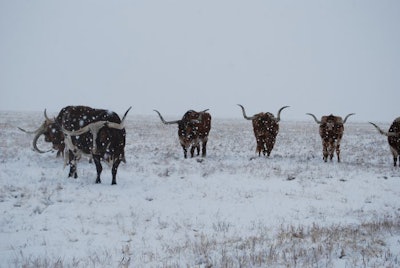 Agriculture commissioner sounds alarm after winter storm disrupts electricity, gas and water supplies across the state
Texas Agriculture Commissioner Sid Miller issued a "red alert" due to concerns about the agriculture and food supply chain as the state grapples with the effects of Winter Storm Uri.
"I'm issuing a red alert regarding agriculture and our food supply chain here in the state of Texas," Miller said in a statement.
Wintry weather and cold temperatures rarely seen in Texas have affected the state's electric, natural gas and water supply, with millions losing power amid freezing temperatures. At least 23 people have died as a result of the storm, which has affected most of the continental U.S. with heavy snowfall, freezing temperatures and dangerous wind chills.
"I'm getting calls from farmers and ranchers across the state reporting that the interruptions in electricity and natural gas are having a devastating effect on their operations," Miller said. "In just one example, dairy operations are dumping US$8 million worth of milk down the drains every day because the plants that process that milk don't have power. Grocery stores are already unable to get shipments of dairy products. Store shelves are already empty. We're looking at a food supply chain problem like we've never seen before, even with COVID-19."
Miller called on Gov. Greg Abbott to designate agriculture producers and processors as critical infrastructure that must be provided gas and electricity to continue operations.
"Governor Abbott must make ag industries a priority for electricity and gas just like hospitals, first responders, fire and police. I salute all our hospital workers and first responders as they deal with this natural disaster, but they won't have food to eat if our farmers are left without power."
President Joe Biden approved a state of emergency declaration in Texas after a request from Abbott.
Dangerous temperatures for animals
U.S. Department of Agriculture (USDA) meteorologist Brad Rippey said the cold temperatures are dangerous for animals as well as humans.
"We've seen wind chill temperatures as low as minus 50 to minus 60, that's when you combine the actual air temperature with the wind, and it shows the effects on humans and other living creatures," he said. "A lot of the energy that goes into staying warm causes the animals not to be able to put on much weight during these bitter cold times, so you see flattening out of weight gains in cattle and other livestock."
NPR reported that farmers and ranchers across the South and Midwest are struggling to keep their livestock from freezing, and keep food and water available for them.