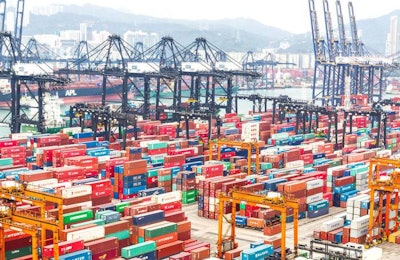 After months of climbing corn and soybean prices, analysts wait for potential market correction
Unprecedented demand for corn and soybeans, coupled with unexpected declines in global production, have sent prices racing toward historic heights in recent months. But industry analysts say high costs could trigger a market correction.
Prices for corn and soybeans have leaped upward since mid-December, according to the U.S. Department of Agriculture (USDA), on record demand from China and concerns about global production. In its January 12 World Agricultural Supply and Demand Estimates (WASDE) report, USDA slashed U.S. soybean production projections by nearly 1 million tons, and cut another 2 million tons from the Argentina projections on concerns about drought and labor disputes. The cuts brought projected U.S. soybean stocks to less than 3.8 million tons — equivalent to about 11 days' use, according to Mac Marshall, vice president of market intelligence for the U.S. Soybean Export Council.
"We're getting pretty close to pipeline supplies," said James Mintert, director of the Center for Commercial Agriculture at Purdue University. "Anything more than that would suggest you need to ration."
Similar trends related to corn production had prices sitting at US$5 per bushel of corn, and US$14 per bushel of soybeans as of January 14. Net returns for corn and soybean producers, according to Nathan Thompson, an assistant professor of agricultural economics at Purdue University, reached their highest levels in 30 years in January, with returns for soybeans exceeded US$4 per bushel.
"It's almost laughable to think of the size of that change," he said, saying returns for farmers who stored their fall harvest and sold in January dwarfed anything seen in previous years.
Mintert said commodities prices are likely to remain high through at least March as the South American harvest enters the market. But a number of factors have analysts saying future prices remain uncertain — not the least of which is how long animal producers are willing to pay these prices.
"We are expecting that we are in the last leg of the cost rally," said Nagaraj Meda, a principal fund manager at TransGraph Investment Managers. Meda predicted high prices themselves could soon curb demand, triggering a market correction.
Whether that happens, Meda said, depends somewhat on what happens in Brazil. Although USDA still anticipates a record-breaking harvest and did not revise its projections for Brazil in January, Meda said he believes the agency's forecast may be excessively optimistic.
"Our initial estimate is 129 million metric tons, but … the large trading houses are looking at 133-135" million metric tons," Meda said. USDA has projected a soybean harvest of 133 million metric tons.
"We were more aggressive in reducing the crop," Meda said, on account of ongoing dry conditions in Brazil.
On the other hand, Meda said, the developing avian influenza situation in India could also serve to reduce demand and therefore prices for corn and soybeans. India's chicken flock is larger than normal, he said, spurred by increased takeout orders in the wake of COVID-19.
"In India, generally the habit is to order chicken from outside rather than making it at home," he said. "People are not going out and eating at restaurants, but they are ordering online."
India has reported incidences of bird flu in 10 states so far, Meda said, but so far most cases have been in wild birds.
Recovery from African swine fever in China is also still in the mix of factors to watch, Mintert said. China imported record amounts of corn and soybeans, in addition to expanding domestic production, to rebuild its hog herd in 2021. But will the accelerated pace continue? While it's difficult to tell just how many pigs are now in China, Mintert said the country has indicated the herd has returned to 2017 levels.
With so much uncertainty still present in global markets, Mintert said it remains difficult to forecast where prices are headed.
"The question is, have we driven prices high enough to ration demand?" he said. "Will we see buyers back away because prices are high? That's the question mark."