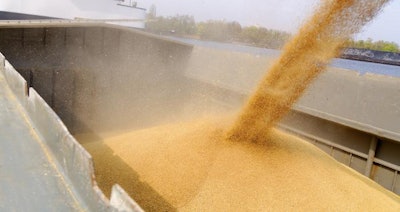 Tight market triggers highest corn and soy prices since 2013 as experts predict further instability
Prices for basic commodities including corn and soy continued their upward trend in December, and market experts say a looming drought in South America could trigger further instability this winter in the wake of pressing global demand.
The U.S. Department of Agriculture (USDA) made only minor adjustments to the December World Markets and Trade reports, decreasing projected production and increasing anticipated demand. The projected average price of a bushel of soybeans ticked upward 15 cents, while corn estimates remain unchanged at $4 per bushel.
Market experts, however, have already turned their eyes to 2021 and to South America, where reports of dry weather have raised concern for a scant harvest amid tightening global supplies. USDA cut estimates for the Argentine soybean crop, in particular, by nearly 1 million tons.
"There are really very few changes to the soybean balance sheet, but the changes that were made spoke volumes and set the stage for a potentially volatile January report," Arlan Suderman, chief commodities economist at StoneX, said during a market briefing by the U.S. Soybean Export Council.
Although soybean production trends remain relatively unremarkable, global consumption continues at a record pace. Total U.S. export commitments have to China alone have exceeded 30 million tons, according to the USDA, compared with less than 10 million tons last year. Global demand has nearly doubled last year's pace. Much of this increase can be attributed to China's recovery from African swine fever, according to Jim Mintert, a professor in the Department of Agricultural Economics at Purdue University.
"Not only are they attempting to expand their hog industry, but they're really trying to commercialize it in the sense that they're adopting a more modern system, which is more heavily reliant on corn and soy," Mintert said during a webinar hosted by Perdue. The growth in Chinese imports, Mintert said, accounts for at least 85% of this year's increased demand for corn and nearly all of the increase for soybeans.
But China isn't solely responsible for the growth, according to United Soybean Board vice president of market intelligence Mac Marshall. The U.S. has also seen an unexpected uptick in domestic use, due to increased soybean crush over recent months, he said.
Mintert pointed to early reports from USDA to show how rapidly trends have turned around from this spring, when COVID-19 was expected to slow global commodity markets. In August, he said, the agency anticipated that 600 million bushels of soybeans would carry over from 2020 into the 2021 marketing year. That estimate is now down to 175 million bushels, suggesting the market for soybeans will be very tight this winter, Mintert said.
"Soybean stocks have no room left for error," Suderman said. "Normal weather in 2021 will be essential in order to maintain these balance sheets."
Corn has followed a similar but not as significant trend, Mintert said, but prices could exceed $4 if trends continue.
"If anything else happens to tighten supply," he said, "that brings those higher prices into play."