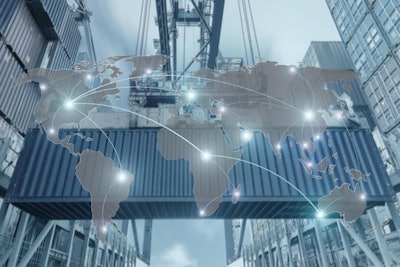 Commodities still flowing despite lockdowns, but micronutrient shortages could affect feed supplies
Agricultural trade remains largely free of disruption despite lockdowns and travel restrictions due to the new coronavirus (COVID-19) pandemic, but supplies of some feed ingredients could grow tight depending on how the next few months pan out.
The coronavirus is leaving shippers and traders with a mixed bag of circumstances, according to a March report from Rabobank. Falling oil prices and declining demand are cutting shipping prices, potentially stimulating tepid exports. On the other hand, required screening and travel restrictions are causing delays in some areas, and manufacturing shutdowns could cause shortages of some ingredients if the outbreaks continue.
On the feed front, the good news, according to Rabobank's senior grain and oilseed analyst Stephen Nicholson, is that major commodities such as corn and soybeans are flowing freely thanks to declarations that have deemed food and feed essential services, exempting them from border closures and travel restrictions.
In the European Union, feed companies have struggled to cope with logistical backlogs created by border controls in shutdown countries, according to Alexander Döring, secretary general for the European Feed Manufacturers' Federation (FEFAC). However, a new guidance released on March 23 regarding cross-border transportation has provided some relief.
"Access to protecting gear for workers and drivers is still a challenge for many companies in certain countries," he said, "and we will also closely monitor direct market impact on raw material supply."
Although the United States has not experienced the same disruption, Leah Wilkinson, the American Feed Industry Association's (AFIA) vice president of public policy and education, said the organization is working with members to develop policies and procedures to address minimizing employee exposure and managing key business operations should an employee fall ill.
"This is an unprecedented situation for the industry," she said in a statement.
Long-term shutdowns could result in ingredient shortages
One potential economic concern, Nicholson said, is what could happen in the long term if shutdowns triggered by outbreaks in key regions such as China, Brazil and North America result in shortages of feed ingredients.
Prices have already begun to rise for certain micronutrients such as crystalline amino acids, which are now primarily produced in China. The two-month shutdown in that country has cut into supplies, Nicholson said, and all eyes are on Chinese manufacturers as the country emerges from quarantine. If there is a recurrence of COVID-19 as workers return to the factories, prompting another shutdown, Nicholson said the supply of certain micronutrients could become strained.
"When I look at the basic commodities — soybeans, corn — we have plenty of stock," he said. "It's those other micronutrients. Because China was supplying it, we don't have that infrastructure [in the U.S] anymore."
Beyond production, Nicholson said, the industry has so far dodged a bullet in that the virus has not yet triggered the closure of a major port. But with the virus just getting started in North and South America, he said, this is a potential issue to watch in the coming months.
Ports, like feed supplies, have been recognized as essential assets that must be exempted from government-ordered shutdowns. But the world is in uncharted territory.
Come up with a backup plan
A former commodities buyer, Nicholson said, it was his custom to study his supply chain and keep second or third options in his back pocket in the event his first choice was for some reason inaccessible.
But for many global commodities, Nicholson said, the industry is facing a situation where nearly every viable source of supply has already experienced an outbreak of COVID-19. Only three countries produce any significant amount of soybeans at this point, he said, and they have all been affected by the coronavirus. It's the same situation with corn.
"The only crop with other choices is wheat," he said.
Nicholson said he is also watching key ports that could becoming bottlenecks if a closure were to occur. For example, the Port of Santos in Brazil, the Gulf of Mexico or Vancouver, Canada. While shutdowns may be unlikely, getting labor to these critical ports could become difficult during a widespread outbreak — and port cities have also become hotbeds for COVID-19 due to the high volume of travel.
Because avoiding countries with COVID -19 may not be an option, Nicholson said buyers should be keeping a close eye on inventories right now and talking with suppliers about potential contingency plans.
"I'd make sure I've had a conversation with anyone I've had in my supply chain, that if this goes on for 30 days, this is where I am and what I need," he said. "Make your intentions clear to them so they don't have any surprises."
Nicholson said he is also keeping an eye on how the virus impacts consumer behaviors. Beyond panic buying, he said, it's possible that after an outbreak runs its course, consumers may return to a "new normal."
"Think about the Depression," he said. "My folks … they said they always bought two of something because they didn't know when they could get it again. We might start seeing people keep more inventory of food in their homes. We go to the produce section and meat section and dairy section because we want fresh, healthy food. Does this change to people thinking they need a few more packaged goods in their pantry? Do consumers get more concerned about food safety and the traceability of food?
"This could change the calculus of what we eat."
How is COVID-19 affecting your feed business? Share your experience.