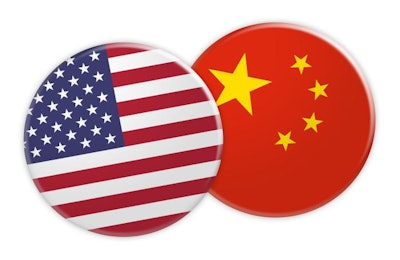 Details yet to emerge on amount of US agricultural products that will be affected
The U.S. and China have agreed to terms of "phase one" of a trade deal, according to officials.
Specific details on the amount of U.S. agricultural products affected have not been disclosed, but China's vice agricultural minister said China would import more U.S. wheat, corn and rice as part of the deal.
In October, U.S. President Donald Trump said China had agreed to buy up to $50 billion in U.S. farm products as part of the tentative trade deal. New tariffs on Chinese goods that were set to go into effect on October 15 were suspended as part of the deal.
Trump announced via Twitter on Friday that the U.S. has "agreed to a very large Phase One Deal with China." He said Chinese officials have "agreed to many structural changes and massive purchases of Agricultural Product, Energy, and Manufactured Goods, plus much more."
Trump said the U.S. will suspend tariffs on $160 billion in Chinese goods that was due to go into effect on December 15. Tariffs of 25% will remain on $250 billion worth of Chinese imports, but other tariffs on $120 billion in imports will be cut in half to 7.5%.
"America's farmers and ranchers are eager to get back to business globally," the American Farm Bureau Federation said in a statement. "Progress restoring our ability to be competitive in China is a key component of that and this development is welcome news. … We are eager to learn the details of China's commitment to purchase more agricultural products."
In addition to agriculture, the U.S. Trade Representative said the deal also includes intellectual property, technology transfer, financial services, currency and foreign exchange.
In 2017, before the start of the trade war, China purchased approximately $24 billion worth of U.S. food and agricultural products.