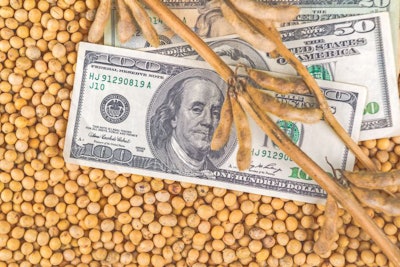 Analyst says cost of animal feed unlikely to rise as prices recover from global trade tensions
Prices for corn, wheat, and soy are unlikely to recover in the near future from African swine fever (ASF) and the U.S-China trade war, according to multiple recent reports, which means the cost of animal feed could remain low for the better part of a decade.
An early November report from the U.S. Department of Agriculture (USDA) concluded that, although the United States has traditionally played "a prominent role in international commodity markets … that role is now diminishing." Though the U.S. will likely remain the world's largest exporter of corn, according to the USDA, other crops are unlikely to recover market share lost due to the U.S.-China trade war and other geopolitical factors.
Soybeans have been particularly hard hit. According to the latest Rabobank grain and soybean outlook reports, the trade war alone reduced the value of soybeans by US$1-$1.50 per bushel. Ongoing outbreaks of ASF dropped prices another 50 cents per bushel. Assuming the trade war is not resolved and that the recovery from ASF takes at least eight years, the report anticipates soybean prices will remain below $9.60 per bushel for the next decade.
Corn prices, though not as dramatically affected, are also expected to remain low. Recent weather conditions could keep prices around $3.80 per bushel for the next year, according to Rabobank, but barring further weather events, the average value of corn is expected to drop to $3.10 per bushel.
U.S. corn production continues to grow, according to Andrick Payen, an animal feed analyst at Rabobank, but demand has not kept pace with the expansion, causing prices to gradually erode.
"Given the current situation, I think livestock operations are actually going to benefit from this," Payen said. "This should help their operations and allow them to expand production."
But for farmers, Payen said, the story may be more bleak. Even if the U.S.-China trade war ends in the near future, it would be difficult for the U.S. to regain the market share it has lost to international competitors. He anticipates that soybean exports will likely remain below pre-trade war norms for at least eight years.
Long-term, Payan said he expects a gradual reduction in U.S. corn acreage to begin in the last half of the next decade.