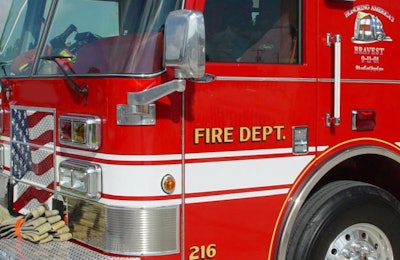 Blaze contained to cooling tower, no injuries reported
Multiple fire departments responded to the scene of a fire at a Jennie-O feed mill in Wisconsin, but the blaze was contained and there were no injuries.
According to the Barron Maple Grove Fire Department, around 7:30 a.m. on Monday, the department received a report of a fire inside the feed mill cooling tower at the plant in Barron, Wisconsin. The fire was contained to the cooling tower and did not extend to adjacent structures, but there was heavy smoke. The fire was under control less than two hours later.
After a search of each floor of the tower, firefighters confirmed there were no injuries and all employees were accounted for.
According to a press release from the Barron Maple Grove Fire Department, fire investigators are working with Jennie-O personnel to determine the cause of the fire, which does not appear suspicious in nature.
"We would like to thank the first responders who worked diligently to save the historic mill," said Hormel Foods, parent company of Jennie-O Turkey Store, in a statement. "We are thankful that there weren't any team members injured and that the fire is now out. Our hope is that the mill can be saved as it's been an important part of this community for many years. We are not sure what caused the fire and will be working with the local fire authorities on an investigation as soon as it is safe to do so."