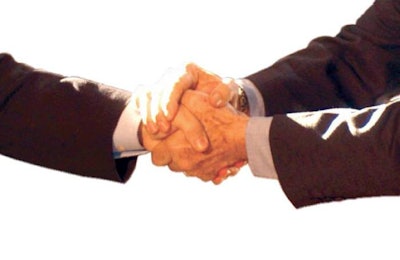 Bayer and Monsanto have signed a definitive merger agreement under which Bayer will acquire Monsanto for USD$128 per share in an all-cash transaction ($66 billion). Based on Monsanto's closing share price on May 9, the day before Bayer's first written proposal to Monsanto, the offer represents a premium of 44 percent to that price.
The combined agriculture business will have its global seeds and traits and North American commercial headquarters in St. Louis, its global crop protection and overall crop science headquarters in Monheim, Germany, and its digital farming activities in San Francisco.
To learn more about recent agribusiness acquisitions, read: August animal agriculture mergers and acquisitions
Bayer aims to accelerate innovation with merger
According to a press release from Bayer, the combination of the two companies will result in an annual pro-forma research and development budget of approximately EUR2.5 billion (US$2.8). Over the mid to long-term, the combined business will be able to accelerate innovation and provide customers with enhanced solutions and an optimized product suite based on analytical agronomic insight supported by digital farming applications. These are expected to result in benefits for farmers such as improved sourcing, increased convenience, higher yield, better environmental protection and sustainability.
"The agriculture industry is at the heart of one of the greatest challenges of our time: How to feed an additional 3 billion people in the world by 2050 in an environmentally sustainable way. It has been both companies' belief that this challenge requires a new approach that more systematically integrates expertise across seeds, traits and crop protection including biologicals with a deep commitment to innovation and sustainable agriculture practices," said Liam Condon, member of the Board of Management of Bayer AG and head of the Crop Science Division.
Pro forma sales of the combined agricultural business amounted to EUR23 billion in calendar year 2015. According to Bayer, beyond the long-term value creation potential of the combination, it expects the transaction to provide its shareholders with accretion to core earnings per share (EPS) in the first full year after closing and a double-digit percentage accretion in the third full year. Bayer has confirmed sales and cost synergies assumptions in due diligence and expects annual EBITDA contributions from total synergies of approximately USD1.5 billion after year three.
Financing and closing conditions of the agribusiness acquisition
Bayer intends to finance the transaction with a combination of debt and equity. The equity component of approximately US$19 billion is expected to be raised through an issuance of mandatory convertible bonds and through a rights issue with subscription rights. Bridge financing for US$57 billion is committed by BofA Merrill Lynch, Credit Suisse, Goldman Sachs, HSBC and JP Morgan.