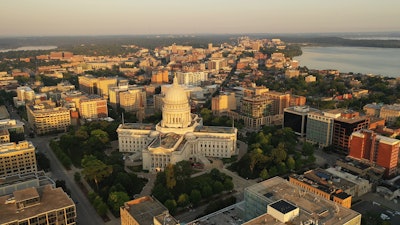 helena_mozhjer | BigStock.com
Madison, Wisconsin, is once again set to host the World Dairy Expo, at the city's Alliant Energy Center.
From September 30 to October 6, attendees will be able to view new products, sit in on a variety of seminars and watch cattle judging competitions.
The trade show
The expo's trade show floor boasts 650 company exhibitors displaying the latest technology and dairy equipment which guests will be able to visit from October 3-6 at the coliseum, exhibition hall, trade center and outdoor trade malls.
Seminars and sessions
Attendees will have available to them a series of seminars on timely topics like "Milking Quickly, Gently, and Completely: Can We Consistently Achieve All Three?" as well as carbon credits and current legislation.
The expo will also offer seminars in Spanish, and all seminars are approved for one continuing education credit for members of the American Registry of Professional Animal Scientists.
Dairy farmers will also have the opportunity to showcase their farms via virtual farm tours, which will give attendees a chance to learn about farm aspects including genetics, technology, environmental stewardship and cow comfort.
Cattle and dairy product competitions
Guests will have plenty of opportunities to enjoy the expo's many cattle and dairy product competitions including:
4-H Dairy Cattle Judging
International Post-Secondary Dairy Cattle Judging Contest
Championship Dairy Product Contest
Railbird Judging Contest
Central National FFA Contests
Youth Fitting Contest
Youth Showmanship Contest
World Forage Analysis Superbowl
National Intercollegiate Dairy Cattle Judging Contest
The expo will also give out annual industry awards such as dairy producer of the year, industry person of the year and international person of the year.