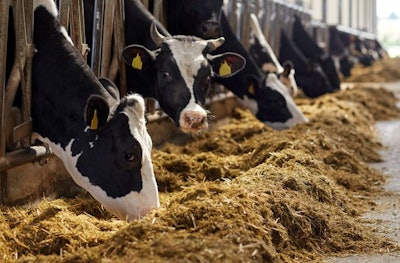 U.S.-based Land O'Lakes Inc. and Netherlands-based Royal Agrifirm Group announced June 24 that they will set up a dairy animal feed joint undertaking in China.
The new company, Agrilakes, will leverage market knowledge, insights, technologies and research capability from Land O'Lakes and Agrifirm to provide service to China-based feed customers and dairy farmers. The new joint venture will initially be based in Agrifirm's existing manufacturing plant in Tianjin, with plans to build a new dairy premix and specialty feed plant on the adjacent property, according to a press release from the two companies.
The development and funding of Agrilakes has been approved by the boards of directors of both cooperatives and is awaiting antitrust and regulatory approvals.
"With this new investment in China alongside Agrifirm, we are continuing Land O'Lakes' successful international commercial growth strategy focused on partnering with locally successful companies and working together to drive market expansion," said Jerry Kaminski, executive vice president and chief operating officer of Land O'Lakes. He said Agrifirm's established presence in China paired with Land O'Lakes' advances in research will benefit both companies.
"With more than 20 years of market experience in China, this joint venture with Land O'Lakes positions Agrifirm to further implement its growth strategy and continue developing a reliable, responsible food chain for future generations in China," said Dick Hordijk, CEO of Agrifirm.
Land O'Lakes and Agrifirm said they feel they are well suited to fulfill the needs of this the growing demand from dairy farms within this region.
According to the WATTAgNet Top Feed Companies Database, Land O'Lakes is the second-largest American farm cooperative. U.S.-based Purina Animal Nutrition, its wholly owned subsidiary, constitutes the core of Land O'Lakes' animal nutrition division. Land O'Lakes does business in all 50 American states, and upwards of 50 countries. Land O' Lakes' reported its earnings were down 30% in 2018.
The same WATTAgNet database says Royal Agrifirm Group is a major European agribusiness with several feed sectors, as well as activities in seeds, fertilizers and pesticides. Subsidiaries Agrifirm Feed, Agrifirm Belgium, Agrifirm Deutschland, Agrifirm Magyarorszag, Agrifirm Polska, Oldambt and Nuscience produce feed for all livestock species and specialty pets, with operations in the Netherlands, Belgium, Germany, France, Spain, Romania, Hungary, Poland, Ukraine, Russia and China, among other countries.