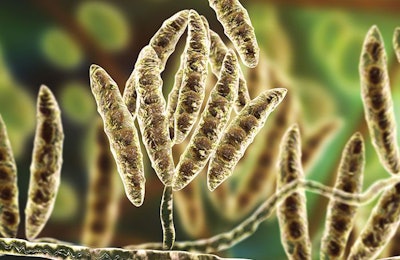 Although the prevalence of mycotoxins in animal feed decreased in most regions of the world last year, industry experts remain concerned that changing global weather patterns could cause some mycotoxins to spread.
Global mycotoxin risk decreased slightly in 2018, according to the annual World Mycotoxin Survey by two Austria-based companies, food safety diagnostic firm Romer Labs, and Biomin, which provides feed additives and other nutrition-related services. While the Americas saw an overall decrease in mycotoxins from 2017 to 2018, China and Taiwan saw little change during the same time period. Mycotoxins were more prevalent in Southeast Asia and the Middle East in 2018 than in 2017, according to the report.
Overall, mycotoxin prevalence remains high — 70 percent of samples collected for the 2018 report contained two or more mycotoxins. Biomin and Romer Labs tested more than 18,000 samples of feed, corn and cereals from 79 countries for the report.
Changing climate poses challenges
And despite the 2018 trend, experts with the two companies say they expect to see more mycotoxins — more kinds of mycotoxins, and more contamination overall — in years to come.
"The greatest challenge is a changing climate, which creates an environment for mycotoxin production," said Alexandro Marchioro, a product manager and mycotoxin expert at Biomin.
Hot, dry conditions, as well as abnormally wet conditions tend to cause plants stress which, in turn, results in greater concentrations of mycotoxins, Marchioro said, pointing to recent conditions in Argentina. In 2017, the country's corn-producing regions experienced heavy rainfall, resulting in widespread mycotoxin contamination, he said. The next year, the country experienced an extended drought, and once again mycotoxins were prevalent in the corn crops.
Scientists believe rising global temperatures will increase the severity and frequency of drought and flood events.
Warmer temperatures themselves may also cause mycotoxins to spread. Fumonisins, which occur primarily in corn and corn products, are increasingly common in cooler regions of the world, including Europe, Marchioro said, presumably due to an overall increase in temperatures.
Scientific awareness of mycotoxin contamination also continues to increase, which could result in an appearance of increased contamination, according to Martina Bellasio, product manager and resident mycotoxin expert at Romer Labs.
Scientists are researching the health effects of "emerging mycotoxins" — toxins the research community is just beginning to identify and understand. These toxins include patulin, which compromises gut health; beauvericin, which harms the immune system; fusaric acid, which has negative effects on the nervous system; ergot alkaloids, which causes fat necrosis and reproductive problems, and moniliformin, which damages the heart. And the list of fungal toxins that harm animal health — which currently sits at about 400 known toxins — continues to grow, Bellasio said.