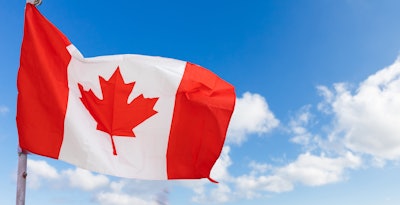 Angelov | BigStock.com
Canada has announced a disaster response totaling CAD365 million (US$265.6 million) in federal-provincial cost-shared funding under the AgriRecovery Framework to help farmers and ranchers in British Columbia, Alberta and Saskatchewan with extraordinary costs due to this year's extreme weather conditions.
Producers already have access to a comprehensive suite of business risk management (BRM) programs that are the first line of defense for producers facing disasters, including AgriStability, AgriInsurance and AgriInvest. With joint funding from the federal government and provinces, these BRM programs provide protection against different types of income and production losses.
The federal government also announced an initial list of designated regions in British Columbia (B.C.), Alberta, Saskatchewan and Manitoba where Livestock Tax Deferral has been authorized for 2023 due to extreme weather conditions.
British Columbia
After an intense summer of wildfires and drought, B.C.'s farmers and ranchers are receiving additional support to repair or replace damaged infrastructure and to help with the expenses they incurred to keep their animals fed, sheltered and safe during these emergencies.
The support is provided through the 2023 Canada-British Columbia Wildfire and Drought AgriRecovery Initiative and offers as much as CAD71 million to help producers throughout the province return to full operation and provide the food British Columbians rely on.
Farmers and ranchers will receive assistance with as much as 70% of certain extraordinary expenses incurred during the emergencies, such as:
Livestock feed due to decreased pasture availability
Transportation costs related to moving livestock to feed and water
Transportation and veterinarian costs supporting animal health and safety
Repairs or replacement of critical irrigation infrastructure damaged by wildfire not covered by insurance
Labor costs to repair fencing damaged by wildfire
Re-establishing forage crops damaged by the wildfires
Replacing apiaries, bee colonies and beekeeping equipment lost in the wildfires
Alberta
The governments of Alberta and Canada are providing CAD165 million to support livestock producers affected by drought and extreme growing conditions.
Alberta's livestock producers are vital to the province's economy. It has been a tough growing season with challenges due to dry conditions causing many of farmers and ranchers to face extraordinary costs. To help them through this difficult time, the governments of Alberta and Canada are partnering on a 2023 Canada-Alberta Drought Livestock Assistance response.
Livestock producers with grazing animals will be able to apply for financial support to cover losses they incurred to manage and maintain their breeding herds. For example, eligible producers could access up to CAD150 per head for breeding animals. Program details are still being finalized with the government of Canada, and more information will be available soon.
Saskatchewan
Agriculture and Agri-Food (AAFC) Minister Lawrence MacAulay and Saskatchewan Agriculture Minister David Marit have announced details of Saskatchewan's AgriRecovery Program, now referred to as the 2023 Canada-Saskatchewan Feed Program. Producers can begin to submit applications to the Saskatchewan Crop Insurance Corporation (SCIC).
This Program covers 70% of extraordinary costs related to feed and freight, incurred after May 1, through to the application deadline of March 1, 2024. Program funding will provide eligible producers an initial payment up to $150 per head to help maintain the breeding herd in the drought regions. Based on available funding, additional payments will be issued to program participants. Eligibility is area specific, guided by the Canadian Drought Monitor. Producers will need to submit their receipts or appropriate documents for the extraordinary expenses. Eligible extraordinary expenses include purchased feed, self-hauling or transportation costs for feed or breeding animals and/or land rented for additional grazing acres or additional feed production. Eligible animal species include beef cattle and other grazing animals, limited to bison, elk, deer, sheep, goats and horses. This program is designed to help retain breeding stock. Breeding animals include females and males of the reproductive age of the species. A Saskatchewan Premises Identification (PID) is required to be eligible for the program.
Online application form will be available at scic.ca. This application process assists producers to determine if they have extraordinary expenses on their operation, including an Extraordinary Cost Assessment. The submitted application needs to indicate the number of breeding animals on hand, as of August 21, intended to be kept until January 31, 2024.
AgriRecovery programs
AgriRecovery programs are created to support producers with extraordinary costs they incur due to an emergency, and to get them back into production. Each one is developed to meet the needs of farmers and ranchers affected by a specific situation.
AgriRecovery funding is available through the disaster relief assistance policy framework defined in the Sustainable Canadian Agricultural Partnership (Sustainable CAP). Sustainable CAP is a 5-year (2023-28) CAD3.5-billion investment by federal, provincial and territorial governments to strengthen competitiveness, innovation and resilience of the agriculture, agrifood and agri-based products sector. Sustainable CAP includes CAD1 billion in federal programs and activities and a CAD2.5-billion commitment cost-shared 60% federally and 40% provincially/territorially for programs that are designed and delivered by provinces and territories.