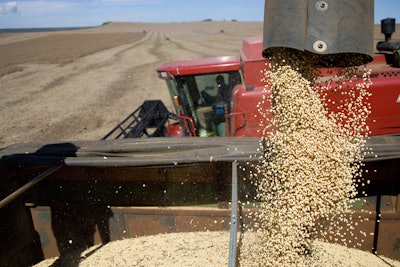 More than 100 cargo ships of agricultural goods are delayed in Argentine ports because 3 unions in the sector are on strike over wage claims.
The strike over wage claims between three Argentine oilseed workers and grain inspectors' unions has caused more than 100 cargo ships of agricultural products to be delayed, affecting global exports of balanced feeds.
"The strike continues without any expectation that negotiations will restart in the short term. We have more than 100 vessels waiting to be loaded," Gustavo Idígoras, president of CIARA-CEC export companies chamber, told Reuters.
While the unions demand a "living wage" and denounce a failure to comply with the agreed wage increases, the companies maintain that the unions have been "intransigent" in the negotiations. The claim is given in an Argentina strongly impacted by COVID-19, the Argentine peso devaluation and inflation.
Three unions — Urgara (portside grain inspectors), SOEA San Lorenzo (soy crushers union) and FTCIODyARA (oilseed workers) — have been on strike since December 9. SOEA negotiates with CIARA, and Urgara negotiates with the Private Commercial Ports Chamber (CPPC).
In a joint statement, the unions denounced that, in addition to having failed to comply with wage claims, companies "have doubled their turnover in pesos since March 2020 due to the increase in the price of soybeans and commodities, devaluation, the reduction in withholdings and the return of the differential for oil companies."
Argentina is the world's largest exporter of soy byproducts. Data from the Rosario Grains Exchange (BCR) indicate that, on December 21, "no trucks hauling soybeans entered Rosario terminals — where the grain is ground — just like last week," according to Reuters.
The BCR estimates that exports of corn, wheat, soy-based products and their derivatives will reach US$21.43 billion, a fall of US$1.32 billion compared with 2019.
Argentina's largest export markets are Vietnam, Indonesia, Spain, Algeria, Italy, Malaysia, Poland, Turkey and Iran.
Soybean prices rise
Due to the strike and weather problems in Argentina, U.S. soybeans hit a six-year high on December 21, according to another Reuters report.
"Chicago Board of Trade most-active soybeans gained 23-1/2 cents to US$12.47-1/2 per bushel, after reaching US$12.48-3/4 per bushel, their highest since June 27, 2014," said the report.