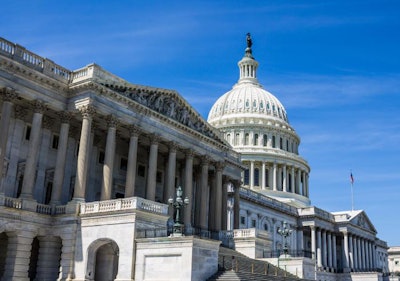 Various aspects of the US federal government are important to agribusiness
Why should the animal feed industry care about what happens in Washington, D.C.? According to Leah Wilkinson, vice president of public policy and education at the American Feed Industry Association (AFIA), there's a lot going on in the nation's capitol that affects the industry.
Wilkinson spoke January 26 at the International Production & Processing Expo in Atlanta. She explained the various aspects of government that are important to how those working in agribusiness do their jobs.
Rules on vaccine requirements
Occupational Safety and Health Administration (OSHA) is the regulatory agency, part of the Department of Labor, that is involved in creating the emergency temporary standard that called for COVID-19 vaccinations to be required for workers. Although the U.S. Supreme Court recently ruled against that standard, Wilkinson said OSHA is working on rulemaking that would require vaccinations.
"We're not quite sure what that means yet," she said. But, "if you had put in policies or procedures for how you were going to monitor the vaccination status of your employees or have testing of them, don't scrap those papers yet. And those plans, keep them around because they might be needed later."
Climate change, sustainability and environment
Several departments of government are involved in ways to lessen the effects of climate change, including the Department of Agriculture (USDA), Food and Drug Administration (FDA) and the Environmental Protection Agency (EPA).
"We have had the opportunity from the feed industry to be able to comment and provide information for (the government) on how those different activities impact our industry, but also the role that we can play in benefiting the climate as well," Wilkinson said.
EPA is also looking at pesticides and rodenticides, with the possibility to restrict the use of some of those that might be used in the industry.
"So we're trying to get some information from our industry as to, if these move to restricted use pesticides, what impact will that have on our industry? So, watch for some more information coming out from us this week on that," she said.
Antitrust and competition
There has been a "renewed energy" at the Federal Trade Commission and the Department of Justice on antitrust and reviewing proposed mergers and acquisitions, Wilkinson said.
"The focus has been on the meatpacking industry, for when you think about agriculture, but when the executive order came out, there was call out for the feed industry, and seed industry as well in fertilizer. So we're watching this very closely to see if there (are) any areas where we need to go educate the government and talk about our industry and the diversity of our industry," she said.
Vacant positions at USTR, FDA, USDA
President Joe Biden has nominated Elaine Trevino as the Chief Agriculture Negotiator in the Office of the U.S. Trade Representative (USTR). Wilkinson said AFIA supports Trevino's nomination and has urged the Senate to take up the nomination, but no time frame for that has been established.
Biden has nominated Robert Califf to become commissioner at the FDA. His nomination has been approved by Senate committee and he is awaiting a time for his hearing before the full Senate.
There has been no nomination yet for the open position of undersecretary for trade at USDA.
International trade
The Trade Promotion Authority, which gives the administration the ability to negotiate new trade agreements, has expired and there are no plans to renew it.
"We are not going out and doing broad trade agreements," Wilkinson said. "We're going to be doing more one-on-one discussions with this administration."
Appropriations for government funding
The fiscal year began on October 1, 2021, but there has been no appropriations bill passed. Instead, government funding is running on a continuing resolution.
"We're facing that February 18 deadline and looking at a long-term continuing resolution, where they will fund the government at the same level through the rest of the fiscal year," Wilkinson said. "And they're just going to scrap this year and they're going to start again, trying to get the appropriations done for next fiscal year."
This is important to the feed industry, she said, because "we had some money and some language in the appropriations bills that we're working with Congress on and we're going to have to start over, but that's OK. That's happened before. That's why we have lobbyists and advocacy efforts and we will just pick up our pieces and try again for the next fiscal year."
She said AFIA is seeking more resources for the Food and Drug Administration so it can get through ingredient reviews faster.