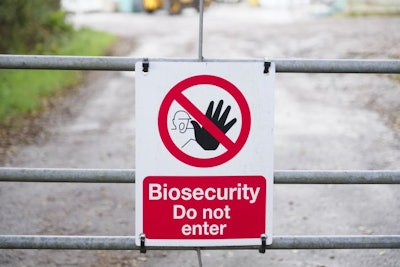 As China begins to restock its pig herd, companies have an opportunity to utilize their biosecurity expertise
Anyone remotely connected to the livestock industry knows how African swine fever (ASF) has devastated the world's pig population, particularly in China.
Rabobank estimates that half of China's pig herd has died or been culled as a result of the disease, but some farms are beginning to restock. The country reported in December that "pig production has shown a clear recovery momentum."
But, as this restocking begins and consolidation results in fewer but larger farms, new and bigger emphasis will be on farm biosecurity. And one market's challenge is another's opportunity, right?
That's a point Zoetis CEO Kristin Peck made on CNBC's "Mad Money" recently.
ASF is "definitely a very serious disease, but a significant opportunity for the rest of the markets," she told host Jim Cramer.
Peck said biosecurity concerns in China will create a big opportunity for companies as the country repopulates its herd.
"Biosecurity is a really important issue," she said. "Having strong biosecurity measures in place is not just good for the animals; it's good for the consumer and it's really good for business."
What's most important for biosecurity?
She laid out three things that are important in biosecurity:
Good vaccine programs to prevent disease: There is no vaccine on the market for ASF yet, but several are being developed and tested. The U.S. Department of Agriculture (USDA) even said it has developed a "highly effective" ASF vaccine and is looking for a commercial partner to license the vaccine for further development. But in pigs and other species, there are many diseases against which vaccines can provide protection, and producers should be implementing them in their operations.
Good surveillance programs: The USDA has furthered its ASF preparedness efforts by adding ASF testing to its existing classical swine fever surveillance. It will test samples from the same high-risk animals, using the same overall process, but will test for both diseases instead of one. This kind of widespread detection and prevention program needs to be in place if China wants to avoid a replay of the same devastation after it restocks.
Sanitary environments in which to raise animals: One of the biggest biosecurity challenges with China's pigs, Peck said, is the large number of backyard farms where biosecurity is lax. Nearly half of China's pork production comes from farms that produce fewer than 500 pigs per year. This problem may be lessened as large pig farms buy up smaller farms across China. These larger producers may have better resources and expertise to implement more biosecurity measures and create safer environments in which to raise pigs.
China's road to recovery will be long and difficult, but it has the chance to make big changes along the way that can transform its pig industry, creating a safer environment for animals and people, and producing a better product — and smart companies should jump at the opportunity to be a part of that change.
View our continuing coverage of the African swine fever outbreak.