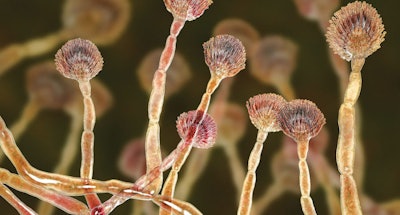 Alltech survey collected 274 samples from 15 countries
Europe's crops harvested during the 2020 growing season have moderate to high levels of mycotoxin risk, according to Alltech's European Summer Harvest Survey.
Alltech's results are based on 274 samples of barley, wheat, corn, corn silage, grass silage, alfalfa, haylage, grass, peas, oats, sunflower meal, triticale and soybean from Russia, Spain, Portugal, Denmark, Hungary, Germany, United Kingdom, Czech Republic, Estonia, Republic of Lithuania, Morocco, Greece, Belarus, Croatia and Kazakhstan. These samples offer a representative picture of the contamination risk in all regions, Alltech said.
Samples showed an average of 4.4 mycotoxins, with 99.6% containing at least one mycotoxin and 96.4% containing two or more mycotoxins. Fumonisins were found in 80.7% of the samples; type B-trichothecenes were present in 74.5% of samples.
"A noticeable trend in recent years is the growing presence of emerging mycotoxins. More than 75% of samples contained this group, which includes specific mycotoxins such as beauvericin, moniliformin, phomopsin A, alternariol and enniatin A and B," Alltech said in a press release.
Emerging mycotoxins are defined as those that are not routinely determined, nor legislatively regulated.
"The evidence of their incidence is rapidly increasing," said Dr. Radka Borutova, DVM, European technical support manager, Alltech Mycotoxin Management, during a webinar on the survey.
She explained how these emerging mycotoxins can negatively affect animals when present in feed.
Beauvericin and enniatins affect animals' immune systems. Poultry are most sensitive to moniliformin, which can cause damage to the heart, as well as respiratory distress, and decreased feed intake and body weight. Alternariol can have a negative effect on reproductive functions. Tenuazonic acid can cause lack of appetite, liver damage, diarrhea, vomiting, hemorrhage, muscle tremors and convulsions. Phomopsin A and tenuazonic acid are genotoxic, carcinogenic and embryotoxic. However, she added, most of the emerging mycotoxins are not a concern for human health.
The survey noted that there was a notable difference in the mycotoxin contamination levels of large grains and small grains: The average number of mycotoxins detected in corn samples was 6.4, while in small grains, it was 3.6.
"So, in this case, if you have the choice and you have to make a decision to make a wheat-based diet or a corn-based diet and you want to avoid mycotoxin risk, then I would go rather for the wheat or barley or oats than for the corn," Borutova said.