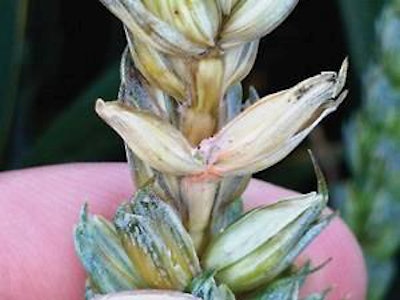 It's difficult to take action against dangerous mycotoxins when a test result might show that there is nothing to fear.
When it comes to mycotoxins—destructive compounds created by molds—producers and feed mill operators should keep a wary eye on their feedstuffs. Many toxins lurking in feed or storage bins continue to hide themselves even after rapid sample tests proclaim mycotoxin masses below range of detection, which can leave farmers with the assumption that they have been spared from contamination.
Common testing methods
When dealing with feed, the first step towards recognizing that there may be a problem may be noting the presence of mold. However, there is poor correlation between the observations of mold, both visually and through mold count analysis, and mycotoxin presence. Even testing for toxigenic characteristics of the mold through genotyping cannot guarantee the presence or the absence of mycotoxins because their synthesis is induced by multi-factorial environmental stress.
Various methods of testing to identify mycotoxin contamination currently exist, some of which can be conducted quickly and easily and others requiring more in-depth laboratory analysis.
In most cases, mycotoxins are analyzed by either quick tests or confirmatory tests. Quick tests are rapid solutions that can be useful for in-field analysis and as a first set of measures for rejection/acceptance of feed material.
However, the narrow range of mycotoxins targeted, problems with result accuracy and their significant costs are key limitations. Nevertheless, quick tests are used to determine whether samples are positive for some mycotoxins. If they are positive, quantification generally involves confirmatory tests.
Quick tests
Quick tests include immunoassays, or ELISA, which use antibodies to detect mycotoxins, and thin layer chromatography, TLC, testing. These tests are available from many commercial and public laboratories serving veterinarians, nutritionists and farmers and are sometimes run at feed mills, veterinary offices and on some farms. They provide fast results and may take only a few minutes to one day.
ELISA is commonly chosen due to its speed and the significant number of samples that can be analyzed, and is available as tests with a yes/no answer, or as semi-quantitative tests for various concentration levels and ranges. Commercial ELISA quick test kits are available for most of the key mycotoxins, including aflatoxins, ochratoxin A, T-2 toxin, DON, HT-2 toxin, zearalenone and fumonisins.
As a screening tool, thin-layer chromatography, or TLC, can be applied in the same way as ELISA is, with better repeatability and less cross-reactivity, but it requires further sample clean-up and a consequent increase in the amount of time needed to obtain a precise ratio.
Other strategies include using lateral flow devices such as immunostrips, immunodipsticks and immunofiltration with immobilized antibodies on their surface. Sensors and biosensors are also available using antibodies, enzymes, bacteria, receptors, DNA, surface plasmon resonance or infrared spectroscopy. These techniques are able to rapidly test for the main groups of regulated mycotoxins, but need to be used with caution due to cross-reactivity and false-positives.
Confirmatory tests
Quantitative confirmatory tests use high-performance liquid chromatography, HPLC, or gas chromatography coupled with UV or fluorescent detection, FLD. They are used when quick tests are strongly positive. They can confirm results and provide more accurate information about the amount of mycotoxin present.
HPLC-UV or HPLC-FLD is used to separate, identify and quantify compounds according to their chemical properties and still represents the "gold standard" in the detection of mycotoxins because of its reliability and the low limits of detection and quantification achievable. However, although more definitive, such methods involve complicated, time-consuming extraction and a consequent rise in cost, and only focus on groups of toxins of similar chemical structure at one time. Thus, with these methods, testing for a range of toxins requires significant time and investment.
While the quick tests and confirmatory tests can be helpful in identifying contaminants, researchers are learning that not only are there more mycotoxins present than we can currently test for, but there are factors that may allow some well-known toxins to escape detection.
Masked mycotoxins
In the last five to six years, a new and underestimated challenge presented itself when mycotoxin researchers discovered that plants have the ability to conjugate toxins. This suspected metabolic reaction to the presence of contaminants changes the chemical and physical characteristics of the toxin, and consequently, their detection or characterization, hence the term "masked mycotoxin."
Dr. Trevor Smith, a professor in the department of Animal and Poultry Science at the University of Guelph, Canada, said commercial ELISA tests will only pick up the free DON levels and the conjugated toxins will stay hidden, which causes animals to respond with mycotoxin symptoms even though test results don't show it.
When fed to animals, the digestive process is capable of hydrolyzing such conjugates and releasing the bioactive original mycotoxin molecule. Though not fully understood, the conjugation mechanism can lead to an underestimation of the real level of mycotoxin present in a feed material—even up to 88 percent—which can make it difficult to pinpoint the cause of issues on-farm.
"Although masked mycotoxins are getting attention in the last few years academically, more education is needed in the field. Hopefully such efforts will allow people to make more informed decisions," Smith said. "If people can't see the mycotoxins, it's hard to convince them to find solutions."
Finding a total solution
While testing and analysis methods are improving, the chemical diversity of the currently known fungal metabolites presents a significant challenge in determining a complete solution for testing. More than 500 toxins have been identified, but traditional methodology may only give part of the picture of contamination, accounting for the presence of less than 10 of those.
As it becomes increasingly apparent just how complex the mycotoxin issue is, it is now more important than ever to have a mycotoxin testing and control program in place. While mycotoxins present an unavoidable issue, strategic testing throughout the year based on geographic location and feed type can assist in preventing major illnesses.
With the significant economic implications and negative health effects, increasing research is being dedicated to identifying harmful mycotoxins and creating better tests to screen for them. As technology improves, new analytical methodologies can present a more complete picture of the situation.
Looking ahead
Recently, a strong emphasis has been seen in the use of HPLC coupled to tandem mass spectrometry techniques in the direct determination of profiles of mycotoxin and masked mycotoxins present in feed or food matrices in more rapid, reliable, quantifiable and efficient ways, thanks to multi-mycotoxin detection capabilities within a sample—with up to 87 mycotoxins analyzed at the same time on a given sample.
Other emerging approaches are focusing on the use of genomics and transcriptomics as tools for indirect mycotoxin analysis. These technologies use the ability of living cells to respond to the presence of chemicals by leaving specific fingerprints in the form of gene expression, according to their type. They could turn into new screening tools with the development of DNA microchips that will evaluate the gene expression profile of specific cells when in the presence of mycotoxins extracted from feed or food material.
When it comes to reducing the risks of contaminated feed, effective remediation strategies start with understanding the problem. And as Smith explains, "Improved testing is critical, because until we can see a clear picture of the challenges, solutions cannot adequately address the issues."