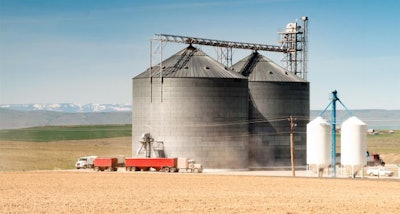 While storage capacity for grains and oilseeds has increased significantly in the European Union over the past decade, bottlenecks in the transport system could lead to price and market volatility, warn the authors of a new report.
Commissioned by the agriculture and rural development department of the European Commission, the study examined the storage capacities and logistical infrastructure for EU agricultural commodity trade, focusing on grains, oilseeds and protein crops.
Total storage capacity for these crops in the 28 members of the EU amounted to 359 million metric tons (mmt) in 2015, which is up 20 percent from the 2005 figure of about 300 mmt. Over the same time period, production of these crops in the region increased by 11 percent, indicating that several countries had responded to shortages in storage capacity identified a decade previously.
Of all the EU member states, France has the largest storage capacity with about 91 mmt, followed by Germany (48 mmt), and Spain (30 mmt).
Eastern European states also contribute to the total storage capacity, for example, Poland (24 mmt), Romania (23 mmt), and Hungary (20 mmt). Growth in storage capacity over the 2005-15 period has also been greatest in Eastern Europe, as well as in Spain. The study revealed wide variations between countries in the distribution of storage capacity.
Across the EU, on-farm storage accounted for largest share of the total with around 114 mmt (40 percent). Again, this figure covered variations from Finland (78 percent of total capacity) to Germany (42 percent).
Overall, 11 percent of storage capacity was controlled by farming cooperatives, especially in Austria, Lithuania, Germany and Portugal. The processing industry controls a further nine percent of total EU crop storage, but its contribution tends to be lower in those countries where just-in-time inventory management has been more widely adopted, such as France, Germany, and the United Kingdom. Also contributing substantially to total storage are traders and wholesalers, transportation hubs and transit storage.
The study identified four main transport corridors for grains, oilseeds and protein crops within Europe. These were between the Baltic and Adriatic seas, the North and Baltic seas, River Rhine and Alps, and the Rhine and Danube rivers. Although the crops were mainly transported over short distances by trucks, inland waterways and railways were the main modes of transport over longer distances.
Each week, around 4 mmt of grains, oilseeds and protein crops worth EUR1 billion (US$1.23 billion) are transported around Europe. The report highlights that any disruptions to this trade can disturb the market.
"Bottlenecks can lead to supply shortfalls and price volatility," said the authors.
Logistical pinch points were identified on all four of the main transportation corridors. The study particularly highlighted the cross-border railway connections between Germany and Austria, and recommends where and how investment could overcome these constraints in future.