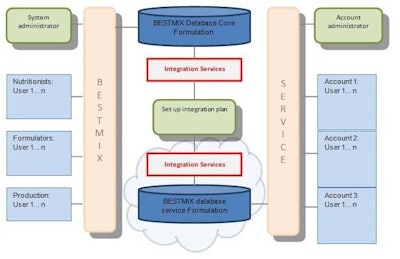 We live in a digital world. And while laptops, tablets and smartphones have had some impact on feed production, there has been somewhat of a lag in producers' ability to react in a true real-time fashion in servicing their customers.
However, the first major step toward immediacy of feed formulation may have taken place with the introduction of the BESTMIX Formulation as a Service platform, offered by the Belgian company Adifo. If the platform is embraced by the feed industry, it most likely will become the new standard for feed production and service.
How it works
Knowledge sharing is the key to effective formulation and customer service. At a typical multi-site feed facility, the nutritionist is constantly tweaking and updating feed formulas for maximum results. However, by using the cloud-based BESTMIX Formulation as a Service platform, he or she can upload their changes to the core system and immediately make them available to formulators and partners off-site.
Perhaps the biggest impact of the real-time basis is for the feed advisor out in the field. Instead of relying on formulation data downloaded to their computer days or even weeks before, they can access updated information via the cloud. Using this information, they can then input information on the raw material available at a site, access the core data platform via the cloud and produce a more accurate formulation for the customer.
A logical step
An important thing to note is that while the data at the core is available for use by any number of authorized parties, it cannot be changed by anyone other than the central nutritionist or other approved personnel. This ensures safety and integrity of the core data, but allows for others—such as internal marketing departments—to run their own data reports without compromising the core data.
"We saw the need for this platform in the feed industry some time ago," Peter Tsjoen, sales director for Adifo said at the platform's unveiling at the 2013 International Production & Processing Expo in Atlanta. "We have been working on this for some time, and we believe that this is the next logical step in feed formulation."