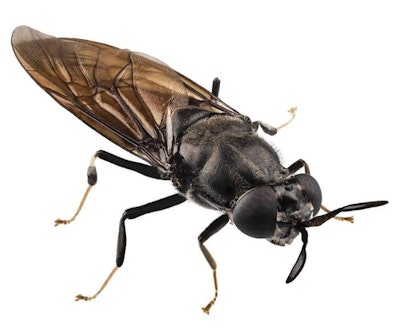 Protix, leader in insect protein production, and Hendrix Genetics, global multi-species animal genetics company, have collaborated in the development of an insect breeding program. The program aims to further improve the potential of insects as an efficient protein converter from feedstock to ingredient.
Founded on the achievements made in the production of black soldier flies, the new collaboration will further deepen the potential of insects as a source of high-quality nutrition. This applies to the potential insects have as protein extractors from food leftovers, and their ability to be a quality source of nutrition for animal feed and human food.
"At Protix we have dedicated ourselves to the development of the necessary technologies to produce insects at scale in a safe and hygienic way. It is time for the next step and partner in breeding to realize our full potential," according to Bas Jurgens, COO of Protix.
Johan van Arendonk, chief technology and innovation officer at Hendrix Genetics, acknowledges the great potential of the collaboration and stated: "Partnering with Protix offers a unique opportunity to jointly create a world-leading program in insect breeding. Hendrix Genetics is truly multi-species focused and we experience every day that sharing knowledge across species speeds up innovation. Working on insects adds a new dimension and opportunity to create added value."
Collaboration is well underway and Protix and Hendrix Genetics together expect results that can offer a strong benefit to all parties in the insect protein business. Both parties believe that it adds to the professional capacity of Protix, to further grow and to accelerate the industry at large.
The insect industry is growing quickly, especially after the EU allowed insect protein to be used as an aquaculture feed ingredient. Over the past decade, this novel industry of insect-based ingredients for feed and food has developed greatly and experienced an increased level of professionalization.