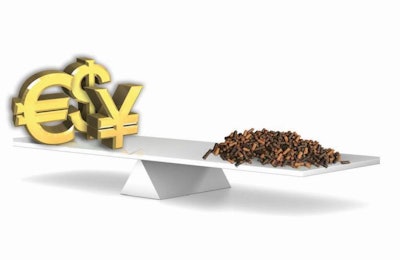 From WATTAgNet:
See what topics were the most popular in the animal feed industry in July.
---
2016 started out busy with acquisitions in animal feed, nutrition and related industries, with five deals announced in January alone. So far this year, WATT Global Media has reported on 22 acquisitions in the sector. The acquiring companies range from large feed producers like agricultural cooperative ForFarmers to vendors like testing kit supplier Neogen.
Of the 101 compound feed manufacturing companies highlighted in the 2015 edition of Feed International's World's Top Feed Companies report, 28 percent hail from Europe.
Pigs and poultry do not require supplementation with chromium to thrive; enough is provided by natural feedstuffs to cover their modest requirements. Yet, chromium in specific forms is an additive prodigal in beneficial claims, sold in many countries.
If antibiotics in animal feed no longer promoted resistance to those used in human medicine, would antibiotics in animal feed make a comeback?
When was the last time a brand new feed additive was launched on the market? Feed additive manufacturers have stopped searching for new compounds a long time ago.
Superdosing phytase in poultry diets can result in improved feed efficiency and growth performance. Superdosing differs from standard phytase dosing by taking the destruction of the phytate in feed ingredients beyond simply providing feed cost savings through the release of phosphorus (P), and eliminates the anti-nutritional effects that phytate has within the digestive tract.
In a response to market demands, Netherlands-based ForFarmers N.V. has begun producing soy-free animal feed for layers, broilers, dairy and beef cattle, and sheep. While acknowledging that soy-free feeds are more expensive to produce and may result in a larger carbon footprint, Nick Major, ForFarmers corporate affairs director, says societal concerns and pressures have influenced the company's decision.
Analysis of regional growth of animal feed companies and major developments with key industry players in 2014 and the first half of 2015.
Intensively farmed livestock are continuously exposed to pathogenic organisms, resulting in the constant activation of their immune system. At best, this stimulates their immune system, but the opposite is also possible. In the latter case, this activation induces either a clinical or sub-clinical form of disease status that reduces the biological and economic efficiency of protein accretion and daily weight gain.
The U.S. Senate on Thursday voted 63-30 to approve a bill that would require a mandatory labeling system of genetically modified organisms (GMO) for all 50 states. The measure would require the U.S. Department of Agriculture (USDA) to determine which food products and ingredients should be labeled as GMO.