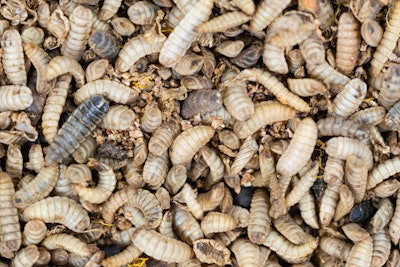 Artur GOLBERT | iStock.com
California-based black soldier fly producer Protein Products LLC is looking to rebuild quickly and is continuing limited production after two of its buildings were lost in a fire on October 29.
The fire destroyed two barns – one that housed black soldier flies and larvae and another that had four industrial dryers inside. Approximately 10,200 pounds of food for the flies, computers and equipment were also lost in the fire.
Early reports indicated Protein Products did not have fire insurance, but co-owner Maximo Mendoza III told Feed Strategy in a phone call on November 2 that the company is working to figure out if it had adequate fire coverage.
"We have different types of insurance, we're just not quite sure if we have adequate fire insurance for the actual barns themselves and the equipment and things like that. So, we're waiting to hear back" from the insurance company, he said.
Meanwhile, he said the company still has black soldier flies and larvae in production inside other buildings on-site that were not affected by the fire.
"Thank goodness that we have the ability to still continue the operations in the other buildings. We had 200,000 square feet under roof and lost 38,000 square feet to those two barns burning down," he said. "One of them was our main manufacturing facility to process and package our products. So that was a lot of our loss, along with one of the production facilities, which was a fly house, so there was a lot there."
Mendoza said the facility is still able to produce and harvest larvae in the remaining buildings, but at lower capacity than before the fire.
"What the biggest setback has been, it's just been in the equipment and machinery because that's what we lost was the majority of that," he said. "And so now, we're in rebuilding phase and mode to just be able to survive."
He said the company is in the process of rebuilding one piece of equipment that would allow it to increase production capacity.
"If we had some help on the co-packing side would be a benefit," he added.
However, Mendoza expressed optimism about the ability to return to normal production capacity.
"The beauty of our capability is that we have a quick recovery rate because of the way that we raise our larvae. So, we can actually exponentially grow because of the larvae and the fly, the way that they mate, can reproduce at a quick rate," he explained. "So, because of that we can increase that to the level that we need it to be in order to match the demand and we're actually looking to be up and running here by December, so that would be a big feat to overcome."
While Mendoza said he is overwhelmed by recent events, he said he remains grateful.
"Although we had this tragic event, devastating event for us, we're glad to be a part of the pet industry and the feed industry," he said.
Investigators are still working to determine the cause of the fire. No injuries were reported.
Protein Products produces black soldier flies for poultry and aquafeed as well as pets and other species.