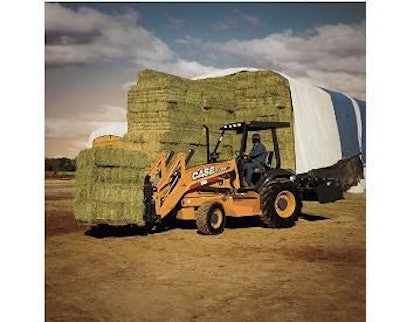 CASE Construction Equipment offers the 570N EP tractor
loader for loader and attachment use in site prep, landscaping, construction
and agricultural applications. Weighing in at 11,134 pounds and rated at 74
horsepower, the 570N EP features CASE's particulate matter catalyst – a
maintenance-free Tier 4 Final solution that requires no fluids or filter
maintenance. A three-point hitch and variable hydraulics (28.5 gallons/minute
at 3,000 psi) help support and power rear attachments, while optional auxiliary
hydraulics for loader-mounted equipment add to the machine's versatility. The 570N EP is also available with an optional
factory-installed PTO (30 horsepower), or an optional PTO-ready hydraulic setup,
both of which include a high-torque, low-speed axle. Additional options, such
as auxiliary work lights, a fifth-spool auxiliary circuit for the three-point
hitch valve and various counterweights are available.