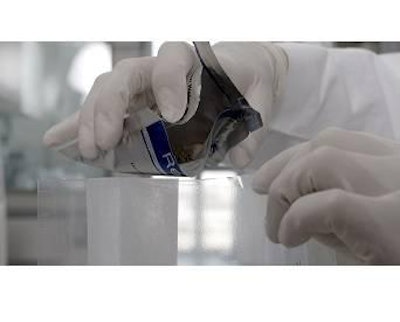 EMD Millipore Readybag pathogen testing pouches are pre-weighed and
gamma-irradiated, and can be used for testing Salmonella or Listeria. Readybag pouches eliminate
all media preparation steps and reduce typical sample preparation time by more
than 50 percent. They have a shelf life of three years and come in a soluble, granulated format. Readybag pouches eliminate the need for autoclaving, weighing media and
handling supplements. The only step required prior to incubation is the addition of
sterile water, thus reducing sample preparation time and streamlining workflow. The pouches reduce the chance of human error, which can be high in the field of microbiological testing.
The irradiation dosage added to Readybag media does not impede microorganism
growth; its performance is similar to non-irradiated, autoclaved culture media. Because of its soluble,
granulated format, it
compacts fine particles into small, uniform granules, thus reducing dust
generation, dispersion and the risk of inhalation of hazardous or toxic
substances. The media is also ISO 11133 compliant.