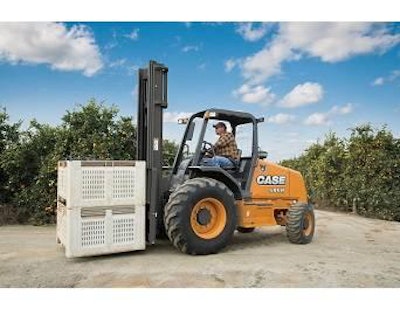 CASE Construction Equipment offers the Tier 4 Final 586H and
588H rough terrain forklifts, delivering all-terrain loading, lifting and
carrying performance. Rated at 74 horsepower, the 586H provides 6,000 pounds of
lift capacity with a 15-foot mast and 3,000 pounds of lift capacity with a
22-foot mast. The 74-horsepower 588H offers 8,000 pounds of lifting capacity
with a 15-foot mast and 4,000 pounds lift capacity with a 22-foot mast. Designed with 45-degree forward mast tilt and 15-degree
backward mast tilt, along with optional load control technology, both forklifts
are built to steadily handle and place all loads while providing a smooth ride
for the operator. A narrow zero-tail swing design allows for operation in tight
areas, and standard four-wheel drive performance ensures consistent power and
traction regardless of environment. A dual-mast design, narrow operating
console and low/sloped rear hood improve visibility to all areas of operation. Both
forklifts achieve Tier 4 Final certification with CASE's maintenance-free particulate
matter catalyst, a combination of a diesel oxidation catalyst (DOC) and a
high-efficiency flow, through filter that requires no fluids and no diesel
particulate filter (DPF) maintenance/upkeep.