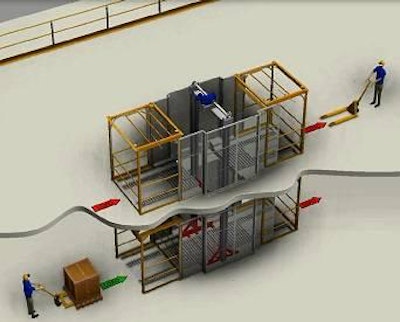 The FlexLoader vertical reciprocating conveyor (VRC) system, from Wildeck, incorporates the AutoSenz D-Series Overload Detection System with automated horizontal loading and off-loading conveyors, and safety gates at each level. The system is therefore excluded from elevator
department inspections and provides code compliance in all 50 states. The FlexLoader automated VRC system improves the utilization of existing overhead cubic space and increases
operational efficiency. The integration of Wildeck's safety gates at the in-feed and discharge points protects workers from the equipment and open shaft-way and prevents loads from being
inadvertently pushed into or down the shaft-way. A signaling system (lights and/or alarms) is available to warn that the system is either in "auto mode", the system is in "manual mode", to show the system status, or to communicate errors or faults. Separate "inbound" and "outbound" lanes can be set up at each elevation to provide "C-Load", "Z-Load", or "H-Loading" patterns. All components of the system (VRC, Safety Gates, & Perimeter Guarding) are designed for heavy automation duty with safety in mind. The conveyor system and VRC are custom designed to meet the user's specific application requirements. The automated flush-mounted conveyor can either be supplied by Wildeck or can be supplied by the customer and factory mounted by Wildeck.