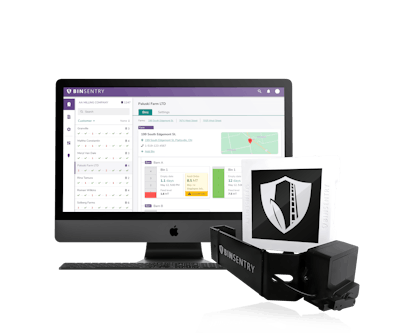 BinSentry Horizon Feed Ordering Automation platform helps feed mills and their customers to drive increased profits by managing the most time-consuming and error-prone tasks within the feed supply chain.
The features and functionality of BinSentry Horizon are further extended with the addition of BinSentry Sensus, our 3D feed bin monitoring hardware. The 3D Sensor data provides the greatest accuracy and reliability when reading feed bin levels.
The BinSentry platform automates the many processes within the supply chain for efficient, sustainable and profitable production.
BinSentry Horizon software:
Manage all bins and orders on a single software platform
Enter and store feed levels data
Confirm or edit suggested orders
Receive order requests from customers
Monitor feed inventory projections on comprehensive dashboards
Eliminate using spreadsheets and other manual processes
BinSentry Sensus 3D Sensor :
Access to real-time sensor data & insights
View feed bin surface and feed flow in 3D
Detect irregularities in feed consumption
Calculate exact order quantities
Track confirmed, late, or missed deliveries
Increase on-farm safety, no climbing bins
3D Sensor hardware technology:
100o field of view of the bin surface
3D view of the bin interior
9,000+ more data detail
No bin modification
Long-range connectivity (LTE-M)
Solar-powered & Self-cleaning
No Internet hub or additional hardware required